We all know how fast a birthday party can go from "small get-together" to "budget-blowing, stress-inducing ordeal." When you start adding up all the little things that go into throwing a party, it can get out-of-hand before you realize it.
So our crafty friends over at Signed Sealed Delivered came up with a list of 10 great ideas that will help us create a "designer" birthday party for a reasonable budget. (By the way, did you know that Signed Sealed Delivered will even host kids' birthday parties? We'll bring you more info on that later, but keep it in mind if you have a birthday girl who likes arts and crafts.)
1. One-of-a-kind placemats and doilies: Create die-cut paper placemats that match your party's theme. Choose any scrapbooking paper you like and die-cut it into a fun shape, giving everyone their own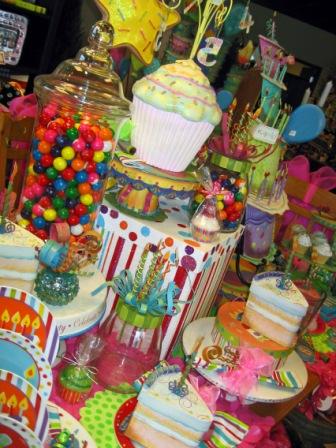 placemats that look like custom decorations. We used black and white polka dots for our theme.
2. Fun balloons: Balloons are back in style and available in so many great designs. Create your own bouquet that brings your theme to life. (Some dollar stores have them for a dollar or 50 cents each!)
3. Custom cupcakes: Order plain cupcakes (we love the ones from Sam's Club) and make your own cupcake toppers. You can use stickers, die-cuts or print images off of the computer and cut them out, attaching them to popsicle sticks or skewers.
4. Make your party favors: Rather than spend money on party favors, host a creative party where the activity IS the party favor, maybe a scrapbook page or even a crazy hat!
5. Do-it-yourself invitations: Custom invitations are all the rage. Lend your individual style and ask your family to help do the work and add crystals, stickers, etc. to dress up any basic invitation.
6. Birthday chair bow: Create a great oversized bow that makes the birthday girl or boy feel like a million bucks It's perfect for a birthday party at home, or you can take it to your favorite restaurant and tie it onto the back of the chair.
7. Dress-up theme: It's not just for little kids anymore! Choose a theme where each child dresses up like an assigned character for the party. Choose a movie, TV show, book or other fun theme and let the kids themselves be part of the decorations. By preparing for their part, they'll have fun even before the party gets started. You might even incorporate games that they play where they have to stay in character.
8. Create and decorate "green": Environmentally friendly is the name of the game, and it can also help keep the budget in line for party decor. Ask everyone to bring a list of products that are great for recycling and have fun creating works of art with your recycled materials. Turn newspaper into huge flowers. Cover cereal boxes with fun papers to hold school work on your desk. Bring an old t-shirt and tie-dye them to make them new again. Decorate with the same materials you're recycling and even tie them into your invitations.
9. Customized birthday banner: Banners are hot right not and, with a little canvas, paper and ribbon, you can create your own customized banner that says the birthday girl or boy's name or says "happy birthday."  This fun banner can be used for many birthdays or is the perfect addition to bedroom décor when the party is over.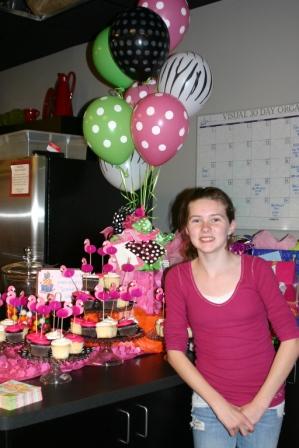 10. Photo birthday: Photos are so much fun and are a great way to introduce kids to a new hobby. Take pictures prior to the party, have them printed before the kids arrive and revolve the party around the activity of scrapbooking the photos. Kids love seeing their pictures, and they'll come away with a fun party favor they can hang up in their home or use to begin their own scrapbook. For a fun decoration, get one picture blown up (Wal-Mart is a good source for poster size) and adhere it to foam core and have it on display at the party. After the party, hang it up in your child's room. so she'll remember that birthday for a long time.
For more birthday party ideas, check out the birthday display at Signed Sealed Delivered in Rogers and ask their crafty mamas for pointers. Signed Sealed Delivered is located on 52nd Street in Rogers (not far from Village on the Creeks). Click here for directions or call them at 479-271-7747.