Speaking of Signed Sealed Delivered, don't forget that we'll be crowning a Crafty Mama Queen in the coming months, so  take a photo of your craftiest project to date (or whip up one that you've been thinking about) and e-mail it to us along with a line or two about what it is or how you made it.
The only rule is that you have to have made it yourself. It might be wall art in your kids' room, a piece of furniture, a funky planter, a favorite scrapbook layout, a kids' costume – you name it. If you're a local NWA mom with a flair for crafts, we want to hear from you.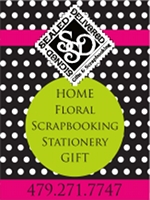 A panel of judges will review the photos and select a Crafty Mama Queen in the coming months. That winner will receive a $100 shopping spree from one of our favorite crafty places in NWA – Signed Sealed Delivered. For those of you who haven't been there, Signed Sealed Delivered is a Crafty Mama's dream come true. They've got roughly a gazillion scrapbooking products along with a huge selection of silk florals, dishes, gift items, tools to use for home improvement projects, Razorback stuff, and the list goes on. We could shop in there for hours.
The newly crowned Crafty Mama Queen and her shopping buddy will also be treated to a gourmet lunch on the day of her shopping spree at Cuisines Gourmet to Go, located right across the street from Signed Sealed Delivered in Rogers. Cuisines is primarily a catering company, but they also offer a fabulous lunch menu Monday through Saturday. And here's the big news: They also offer take-home meals! For those days when you just don't have an ounce of energy left to co

ok dinner, this place is a lifesaver. On the menu today? Beef Brisket Madera with Garlic Roasted Potatoes. Yum. Their lunch specials and take-home meals sell out every day, so you need to call ahead so they'll have your meal ready to go. For more info on Cuisines, check out their website by clicking here. The site is great – lots of info and detailed menus!
If you know a Crafty Mama who might be perfect for this contest, please e-mail her the link to this article and encourage her to send in a photo. (Sometimes those Crafty Mamas are too modest for their own good.) With permission, we may even use those photos on the website to inspire your fellow moms with new, fresh ideas for how to become a little craftier themselves.
If you have questions, e-mail us at mamas@nwaMotherlode.com. We can't wait to see what you Crafty Mamas come up with! Good luck.