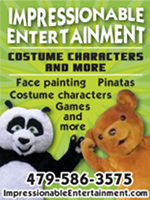 Impressionable Entertainment Costume Characters and More, one of Motherlode's newest sponsors, will have its characters Razor Ray and the Impressionable Teddy, along with airbrush face painting, available at Centerton Fireworks!
Airbrush face painting starts at $1.50 per design, which is a good price. But it's an even better price if  you mention seeing the Impressionable Entertainment ad on nwaMotherlode! Those who mention seeing this ad to the right will receive FREE face/body painting!
Impressionable Entertainment will be at Centerton Fireworks from 1 to 8:30 p.m. on the following days: Saturday, June 27th; Sunday June 28th; Friday July 3rd; and Saturday, July 4th.
Centerton Fireworks is located off of HWY 102, right next to the First National Bank of Centerton (look for the signs or give Impressionable Entertainment a call at 479-586-3575); parking is located in the rear of the bank.
In conjunction with 4th of July festivities, they will also be offering a special, free face/body painting for anyone with a $40 or more purchase in fireworks from Centerton Fireworks (one design per person). Centerton Fireworks will also have a bounce house and great fireworks at affordable prices.
Centerton Fireworks is also offering a special, up to 50% off fireworks when customers buy groceries at the Centerton Harps. To learn more about this special there is a flyer posted at the Harp's store and at Centerton Fireworks.