By Andi Douglas, nwaMotherlode.com beauty editor and mama of 3
There are several trends this summer that I heart, but make me wonder, "Am I too old for that?" Much like using heart as a verb, what else should I be leaving to the tweens?
Feather Hair Accessories: When my husband first questioned the tiger print feathers clipped into my niece's hair I explained that it was something all the kids were doing. And I believed it was just for youngsters until I saw an adorable soccer mom sporting one. Now I don't think I can live without a feathery wisp of color but I think it's best to stick to the neutral colors and leave the show-stopping hues to the kids.
Neon Bright Eye Shadow: Best worn in a matte formula and paired with nude lips, bold eyes can be a lot of fun on Girl's Night Out, but what about Mom's Night Out? Summer is definitely time to play with color, but I am going to stick to my colored eyeliner for now. At least until I see it worn by someone with more life experience than Katy Perry.
Extravagant Nail Polish: Very fun and a must for a beach vacation, but bedazzled or graphic nails might be too much for the park. If you are in the mood to glam it up, Sally Hansen makes it easy with the Salon Effects Real Nail Polish Strips. They go on like stickers but stay like polish because they are polish! If you have the time and skill for a DIY finish, the July issue of Glamour has a great spread on this eye-catching trend. My favorite, the "Must-Have Metallic", which involves three simple steps. Begin by polishing half the width of each nail neon orange and the other half with hot pink. Add a metallic crackle topcoat like OPI Nail Lacquer in Silver Shatter. It breaks apart as it dries, revealing the two-toned brights underneath. I'll test this out on my toes first and see if I get compliments or giggles behind my back.
I may not be clear on what trends should be tried in your thirties, but I know if you are going to be brave, only test out one at a time. I want to look like a cool, trendy mom, not the number one fan at a Justin Bieber concert!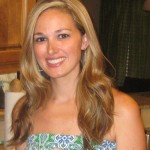 Have a question for Andi, beauty blogger and fellow mama of three? Andi welcomes your questions and feedback to Beauty Buzz. E-mail her at mamas@nwaMotherlode.com.