By Andi Douglas, nwaMotherlode Beauty Editor and mama of 3
Two weeks ago, I drove past the salon where I get my eyebrows waxed and thought, "Nah, I'm not in the mood. I'll have plenty of time next week." Does anyone else remember those naive times and laugh ruefully, like Miss Havisham desperately trying to hang on to her beauty while wasting away in her grand estate?
We are all hopefully finding the bright side to the simplified life we've been thrust into…the hilarious memes alone have almost been worth it. But there are certain normalcies we crave, like buying toilet paper or having our nails done.
Sometimes procrastination pays off, like forgetting to sign up my kids for spring sports that got cancelled anyway. But putting off having my hair done this spring has definitely come back to bite me this year. I'm handling my grown-out roots by wearing my hair down as much as possible because they aren't as obvious as when my hair is pulled back. It's a good thing ombre is still in style.
I've also had fun with the Kristin Ess Rose Gold Temporary Hair tint and added some color to the ends of my hair. Does it distract from my roots? Maybe.
Does it make me happy when I look in the mirror? Definitely! If your roots aren't growing out subtly or it's just driving you nuts, try a temporary root cover-up like this powder formula Premium Root Touch Up by Yuri or an easy-to-use spray like L'oreal Magic Root Cover Up.
If you normally have your hair professionally colored, trying an at-home box dye can seriously mess with your formula and result in damage that you'll only have to repair later.
I can not say this enough times…no matter how bored you are, DO NOT cut your own bangs. We've all done it and we've all regretted it. Usually brought on by a bad break-up or an encouraging "friend," cutting new bangs without any trained experience is a recipe for disaster.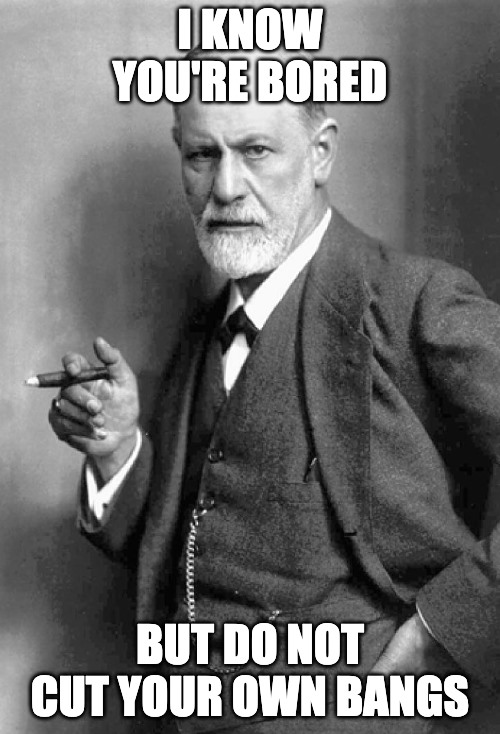 If you already have bangs, consider experimenting with styling them in a side swept part or a curtain effect parted down the middle. You may discover a whole new look to play with.  If your bangs have grown to a length that's hazardous, then you might not be able to wait for the salons to open again. First, don't cut your bangs when you're emotional, stressed or in a hurry. Find a quiet time and take a deep breath. Dry your hair completely and style your bangs per usual. With a sharp pair of scissors (ie: not your chicken scissors from the kitchen or the Fiskars from your new home school station) trim your bangs to right below your eyebrows.
Do NOT pull on your bangs so that they are taught because they will spring back up. If you absolutely can not resist the temptation of changing your life with bangs, by all means cut away, just please send me a picture because I'm bored and would love the entertainment.
Let's move on to the next annoying beauty problem caused by this quarantine — manicure maintenance. Gel manicures are extremely popular due to their durability, high shine and long-wear potential, which are all great things if you can go in regularly to get them filled. Maybe you're one of the lucky ones that had your nails done right before lockdown, and you should be able to wait it out. But if you're like me and hopefully most busy moms, you were waiting until the last possible moment to get a touch up, and your nails are now in a disastrous state.
Stop subconsciously picking at your nails as you read this…STOP IT! You can do major damage to the underlying nail if you attempt to just chip or rip the polish off. Most salons use foil and acetone nail polish, but it can be difficult to attach the foil yourself. This beauty blogger tried several methods and had the most success with the "double boiler' technique. If you've ever melted chocolate (or seen it done on tv) you may be familiar with the concept of a double broiler already.
First you need to remove the shiny top coat from your nails using an emery board. Then pour boiling water into a large bowl and nest a smaller bowl of acetone nail polish remover inside it. Soak your finger tips for 10 minutes in the warm acetone and then gently scrape the loosened polish off with a wooden cuticle stick. This is a great time to go polish-free and let your nails breathe and recover.
Keep in mind that most of these tips are just a way to wait out the social distancing and not do too much damage before you can get back to the pros. The one thing I can not leave alone, even if I'm going low-maintenance and make up free are my crazy bushy eyebrows. I managed to make it out of the nineties without ending up with overly plucked tadpole eyebrows. Did I have horribly unshaped caterpillar brows? Sure did, but at least I have some options now for shaping.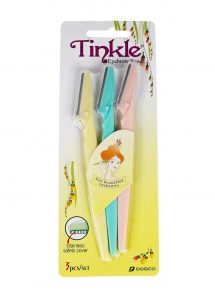 In order to maintain your eyebrow shape without accidentally causing any permanent damage, I recommend just shaving your unwanted stray hairs using a facial razor like these Tinkle razors. I say "like" these razors but I can not recommend the Tinkle brand enough. I've tried several other brands when I run out but they always scratch me or don't get as close, so I end up going back to Tinkle. They are also great for dermaplaning at home in between trips to the spa.
If you follow Jen Hatmaker, you may have seen her hilarious updates on Facebook and know that she is down to her last three eyelashes as her extensions have slowly started to fall out lacking regular maintenance. You can certainly let nature take its course and allow your extensions to follow their own path, or you can carefully remove them yourself at home.
Never pull them out by force because you will likely remove your natural lashes in the process. The best way to loosen the glue adhering your extensions is to use a steam bath. Place your face over a bowl of boiling water with a towel covering your head for 10-15 minutes. Then, using a cotton ball soaked in olive or coconut oil, gently swipe downward and the lash extensions should slide right off. This may need to be repeated a couple of times depending on how recently the extensions were adhered.
If your lashes are still in good shape, then maintaining them may be your best choice. Avoid mascara and eyelash curlers (which you really shouldn't need anyway) for the time being and don't rub your eyes. When removing eye makeup, use a gentle cleanser like micellar water and avoid swiping at the lashes themselves.
While we're enjoying our mandated family fun time and learning to truly appreciate our teachers, this is a great time to go makeup free for a while. Let your pores breath. Break into that stash of face masks you never have time to use. You may find you don't feel the need to wear makeup everyday after this.
Or go the other direction…have fun with your makeup! Watch crazy tutorials on a sunset eyeshadow look or try contouring for the first time. Whatever brings you joy is exactly what you should be doing.
Hang in there, mommas. We will come out the other side closer to our kids and more appreciative of the teachers and healthcare workers who keep this world running.
Happy Social Distancing, Mamas!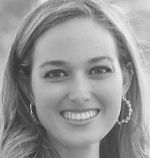 Got a beauty or hair question for Andi? Send it to us so she can write about that topic in an upcoming Beauty Buzz. Email it to mamas[at]nwamotherlode[dot]com. Click here to read more beauty posts by Andi.