By Andi Douglas, nwaMotherlode.com beauty editor
I love when I spy trends on the street instead of just reading about them in magazines and one that I have noticed lately is creative nails and custom polish colors.
One of my favorite combos was easy to do and dazzled, especially for the more-is-better holiday season. A base coat of O.P.I.'s Tease-y Does It with a light topcoat of Sparkle-icious, both from their new Burlesque line (available at Ulta), creates a glamorous look without having to rely on the old fallback of classic red.
If the combo is a little too goth for your taste, Sparkle-icious looks great on it's own as a jazzed up neutral or layered on top of your favorite shade.
If you are desperate to match your favorite dress or have a dozen half empty bottles of so-over-it colors, be brave and try the more advanced option of blending your colors before you apply them. All you need are some cheapy paintbrushes, a paper plate and an empty nail polish bottle in case you come up with the perfect shade. Test runs can be made on paper, but if you think you have a contender, try it on your nail first before mixing a whole batch. The color will look different on the smooth surface of your nail.
A little extra: I went to www.opi.com to get the name of the polish I coveted and started playing with the Try On This Color feature. So fun! You can change the nail length and skin tone of the model hand and it really helped figure out which color worked for me. Just a warning, with all of the color choices O.P.I. offers this can be a major time-suck!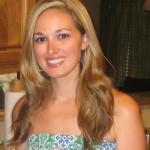 Have a question for Andi, beauty blogger and fellow mama? Andi welcomes your questions and feedback to Beauty Buzz. E-mail her at mamas@nwaMotherlode.com.