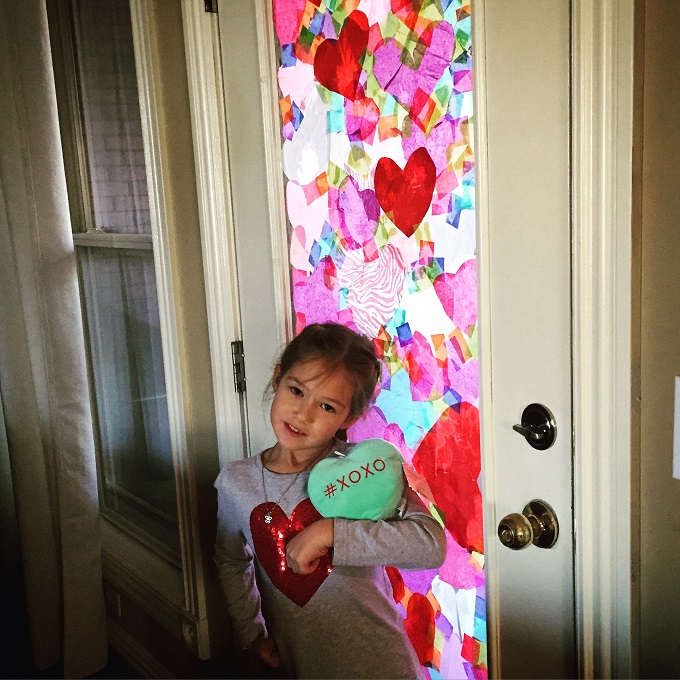 By Andi Douglas, mama of 3 and beauty editor of nwaMotherlode
You know you're a mom of elementary-aged kids when your inspiration comes from an outbreak of pinkeye.
I received the dreaded call from the nurse at 8:30 Friday morning. Of course, it was party day and, as homeroom mom, I was in charge of the the festivities and this left me scrambling. It's also how I ended up with a "stained glass" Valentine's Day window to cheer up a 6-year-old who was "feeling really sad about missing her party" and is a master manipulator (see the sad girl pictured above).
Anywho, this all led to me suffering from psychosomatic pink eye and not wanting to wear my contacts. Hence, the inspiration: Makeup tips for when you want to wear your glasses! Although I tend to only wear glasses by necessity, thick frame spectacles are very on trend right now.
Here are a few tips to make your eyes (all four of them) look their best:
1. My biggest glasses woe is the smears I get when my lashes hit the lens, and I don't even have long lashes like some of you. Lengthening mascara only will add to this problem, so try a thickening or volumizing mascara instead.
If you are a frequent glasses wearer, eyelash tinting can give you the look of mascara without the hassle, but spend the extra money and go to a trained esthetician for the treatment. Curling your eyelashes away from your eyes will make your eyes appear more open, as well as minimizing any lash to lens collisions.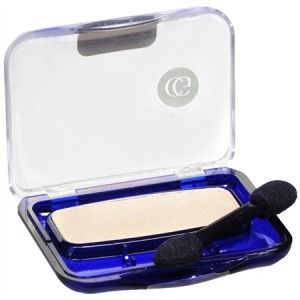 2. One reason you might not feel your best when wearing glasses are the dark shadows created by the frames themselves. Uh, I have enough shadows under my eyes without extra help, thank you very much.
3. Brighten your lids with a universally-flattering, champagne-colored eyeshadow, like the long wearing Colorstay Eye Shadow in Champagne by Revlon ($4.29).
4. Don't skip your under eye concealer, even if it seems like that area will be covered by your frames. A light reflecting concealer, like YSL Touche Eclat will conceal and brighten to counteract the pesky shadows.
5. Don't neglect your eye liner either. Think how expensive and dynamic a picture looks when it is double framed. If you are nearsighted and your lenses make your eyes look smaller, try lining both the top and bottom lash line with dark brown or black liner for an eye popping effect. If you are farsighted and lenses make your eyes look giant, try a light brown or white eyeliner to define your eyes without being too bold.
6. Of course, none of this matters unless you have the right lenses for your face. Choosing new glasses can be the most exciting and terrifying decision you make. They are expensive and a pain to replace and you have to see them anytime you look in the mirror.
A few tips for picking just the right frames:
If you have a strong prescription, the smaller the frame the thinner your lenses will appear at the edge, since lenses gain width as the curve outward. Sadly, that means the giant hipster glasses that look so cute on your friend will probably make you look like Urkel. This is advice I really, really wish I had in the fourth grade when I had bifocals that covered half my face. The good news is the giant butterflies on the side probably distracted from my coke bottle lenses.
Make sure your eyes are centered in each lens and that they do not fall too far below your eyebrows.
Pick frames that contrast your face shape. For example: If you have a round face, choose square or cat-eye frames. I found a great guide to face shape in regards to glasses at All About Vision.
I am seriously jonesing for a new pair of glasses now. I'm also having major awkward-phase PTSD as I remember the array of horrific glasses I have worn in the past. Thanks for that, Mom! I don't care how much I wanted them, you should not have let me get pink glasses with metal butterflies…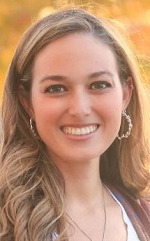 Andi Douglas is a mama of three and loves to play with makeup and other beauty supplies. She likes to try new products and services in the name of beauty editor here at nwaMotherlode.

Beauty Buzz is sponsored by Revive Medical Spa, which offers a full range of medical, cosmetic, and therapeutic services, with the latest technology and knowledgeable clinicians and staff. Located in Fayetteville, Revive serves the communities of Northwest Arkansas, Southwest Missouri, and Eastern Oklahoma. Revive's massage therapists and estheticians personalize every relaxing service to each guest's individual needs. "Your visit will whisk you away and leave you feeling revived."