By Andi Douglas, nwaMotherlode.com beauty editor
Let's face it, getting a sitter and going out on the town for Valentine's Day is a lovely idea, but probably not going to happen. But even though you will be dining at home doesn't mean you have to serve dinner in your jammies (been there) or ignore the holiday all together (done that). Shave your legs, slip on your good booty jeans and a femme top, and try something new to feel a little special.
Amping up your eye makeup is an easy way to feel glam with only a couple of extra minutes. Try Stila Sparkle Waterproof Liquid Eye Liner in Bora Bora, an electric blue, ($22, Sephora) or the more budget friendly NYX Studio Liquid Liner in Extreme Blue ($5, Ulta), to encourage your Valentine to gaze into your eyes at dinner, or during a commercial break…
I always feel better when I'm all dolled up but some men like us with as little makeup as possible. However, since I'll feel anything but romantic looking like I just rolled out of bed, there are some tricks to the No-makeup makeup look:
Trade your heavy foundation for a tinted moisturizer.
Use a tinted eyeshadow primer instead of layers of powder shadows and apply just one coat of mascara. Comb it through with a tiny lash comb or a new toothbrush (like the kind they toss at the parades) for a softer, touchable lash.
A cream blush will melt into your skin, giving the "I'm just glowing with my love for you" look.
Last, skip the lipstick and just give your lips a good scrub with your toothbrush to pink them up and make them extra soft.
Have some spare time while the kids are in school? Do something fun for yourself (honestly, he probably won't notice) with a Valentine's-Day inspired mani. Love the new take on a classic red nail seen on this mani featured at The Beauty Department. Use glitter polish instead of the leopard print for a little sparkle, just make sure you use a topcoat in-between layers.
Happy Valentine's Day!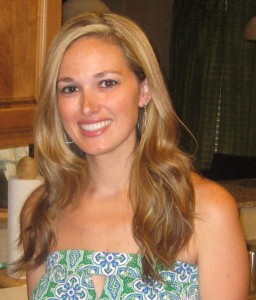 Have a question for Andi, beauty blogger and fellow mama of three? Andi welcomes your questions and feedback to Beauty Buzz. E-mail her at mamas@nwaMotherlode.com.