Happy Friday, mamas! Here are our top 5 picks for what to do this Labor Day weekend with your family in Northwest Arkansas: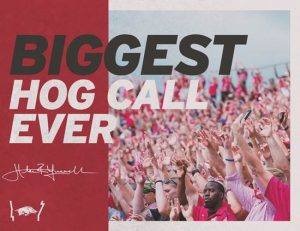 The Arkansas Razorbacks are kicking off football season by inviting everyone to come together as one for the biggest hog call ever. Join Razorback Athletics Director Hunter Yurachek for a public #ONEHogCall event on Friday, August 31 at 1 pm at the Fayetteville Town Center Plaza. Free parking will be available in the Town Center parking garage. There will be free food, prize pack drawings plus appearances by the Razorback Spirit Squads and the Best in Sight and Sound Band. There's also an opportunity for businesses to be involved.
Date: Friday, Aug. 31
Time: 1 p.m.
Location: Fayetteville Town Center plaza
Frisco Festival, downtown Rogers
This is the 34th Annual Frisco Festival, this year partnering with CattyWampus Co-Op for art & craft vendors. There will be live music on both Friday & Saturday, expanded kid zone (magicians, street performers and games), plus the Southern BMX Stunt Show will be performing on Saturday. Make sure to bring your dancing shoes and make sure to check out all the food & craft vendors.
Dates: Friday, Aug. 31 to Saturday,  Sept. 1
Time: Varies
Location: Downtown Rogers
Prairie Grove Clothesline Fair
Arts and Crafts, food vendors, largest square dancing exhibition and competition in the U.S. + gospel music on Sunday afternoon.
Date: Saturday, Sept. 1 through Monday, Sept. 3
Time: 9 a.m. daily
Location: Prairie Grove Battlefield State Park
Light Night party at Crystal Bridges
Get your glow sticks ready for the sixth annual Light Night festival. Explore an illuminated wonderland of creativity, lights, music, and dance around Leo Villareal's Buckyball. Kishi Bashi and ensemble hit the main stage for a high-energy electronic pop set directed by the award-winning instrumentalist. Kishi Bashi is known for his unique looping and participatory shows with world class ensembles from symphonies to rock bands, like Of Montreal, Jupiter One, and Tall Tall Trees. The Arkansas Philharmonic Orchestra joins Kishi Bashi for a special collaboration with their string quartet. Opening set by Vanimal Kingdom, bringing the party to life with funky grooves.
Catch a sound spectacle parade that's a mashup of the Bentonville High School West marching band, bicyclists, and a car horn choir directed by Austin-based sound artist Steve Parker, pop-up light art installations by the Hillberry Festival, fire dancers, glow artmaking, a black-light graffiti wall, and more. A cash bar and food trucks are available. This event is open to all ages. FREE, no registration required.
There will be a contest to determine the best-decorated LED bike and costume at Light Night. Come with your most creative ideas, clever costumes, and dazzling lights to participate in the contest and arrive to Light Night in style. Extra points if you're glowing.
Date: Saturday, Sept. 1
Time: Pre-event starts at 7:30 p.m., Bike Rack Brewing
Location: Crystal Bridges
Drool in the Pool at Wilson Park
The city of Fayetteville will allow dogs to swim in the final hours before the pool closes on Labor Day. Don't miss a chance for your pup to splash around with other dogs of all sizes at the inaugural "Drool in the Pool" event. Organized by the Parks and Recreation Department and sponsored by The Canine Connection, the doggy pool party will allow furry friends a chance to enjoy a refreshing dip in Wilson Park Pool. Concessions and local food trucks will be on site. Participants will enjoy giveaways provided by The Canine Connection.
To partake in the fun, dogs must be socialized appropriately, have proof of current rabies vaccinations, and be spayed or neutered. A waiver must be signed before entering the facility. Entry fee for "Drool in the Pool" is $10 per pup and free for the owners. $5 of each entry fee will be go to Fayetteville Animal Services. For more information, feel free to contact the Parks and Recreation office at 479-444-3471 or You can also visit the website at www.fayetteville-ar.gov/parks for more information.
Date: Monday, Sept. 3
Time: 6-8 p.m.
Location: Wilson Park Pool