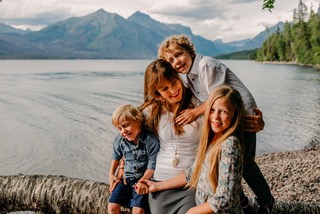 Hi, mamas! We'd like to introduce you to Ali Frakes. Ali's a long-time Motherlode reader and we thought it was high time we all got to know her a little better!
Enjoy this little chat with her:
Childrens' names and ages: Karly (11), Tanner (8), and Mason (6)
Where do you live and what brought you to NWA?
We live in Bentonville and were, as so many, brought here by Walmart. And we may never leave! We love it here!
What's the weirdest thing that happened to you as a mom most recently? 
Probably having someone call the police because my 6 year old was on the main street of our subdivision. I'm grateful people are watching out for my kiddos, but she followed him home and instead of coming to the door to tell me where he was and that she was concerned, she called the police. It was bizarre and a little disheartening when the police came to the door.
Where are your family's favorite places to play in NWA: 
Bike trails for sure! My husband mountain bikes and has gotten the whole family involved! We love hiking the trails, too. We also love the Amazeum and Crystal Bridges (inside and out!)
Tell us about your pandemic puppy 🙂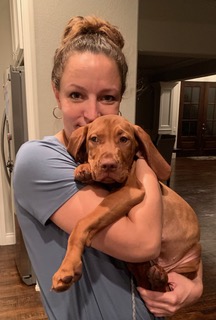 Ozark is a Vizsla and he's been a long time coming! My daughter has wanted a puppy since she was 2 and we were always waiting for something: brothers to be potty trained, etc.
We decided since everyone was going to be home for several months, now was the perfect time! Everyone could be involved in watching him and training him (although it has been more work training the kids WITH the dog than actually training the dog!). He is hilarious and obnoxious all at once.
And are you still cooking up a storm?
Always! That's not new to the pandemic – just more of it. 🙂 Sourdough baking is new though, and I'm still working on that! Sometimes the bread is amazing and sometimes it's a brick. Successes have been muffins, scones, and jalepeno cheddar bread. Yummy!
Share a typical day in your life with us:
We decided to homeschool this year, so a lot of it is spent at home. I try to go to the gym at least 3 times a week (would be daily, but I'm nursing an injury) and we try to do something active as a family most days too – a walk through the neighborhood or the trails nearby.
Honestly, our schedule is pretty fluid right now and I love the flexibility; some days I work on projects, some days I spend a little more time with kiddos, some days I feel like I get nothing done! Total balance, right?! We also own a vacation rental with my parents in Bella Vista, so I spend time cleaning and maintaining that property weekly.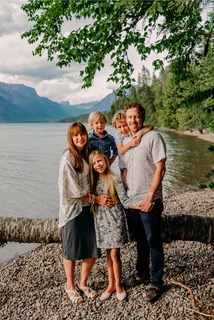 If you could vacation anywhere in the world this winter, where would you go? 
Oh definitely Italy! I have a friend who lives there and she recently posted pictures of their travels. I've wanted to go for YEARS and especially would love to see Cinque Terre – absolutely beautiful!
If you could magically learn a new skill, what would it be? 
Upholstery. I love refinishing and building furniture, but I can NOT seem to get the hang of upholstery no matter how many times I try!
What's something your friends might not know about you? 
I'm fairly introverted and have a hard time making new friends, and even when I've made friends I have a hard time keeping them, simply because I'm horrible about making plans. I feel so much guilt and inadequacy at all the amazing women I've known that I don't keep in touch with or spend time with just because I'm SO bad at putting myself out there and making the plans!
If you got an unexpected gift of (a lot of) cash, what would you do with it?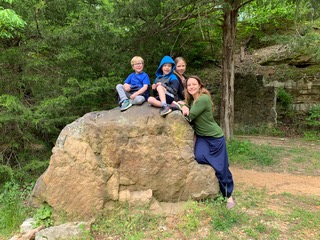 I'd start out super boring by paying off our house, putting away enough for college for my kids, and saving enough for retirement, but if after all that, there's more, I would definitely travel! God has created such a beautiful world and I'd love to see more of it!
How do you relax when the going gets tough?
Cry?!? Haha – honestly there's something about letting the tears flow that helps with stress. More often, though, I exercise or work on a project – woodworking or some other crafty idea I usually find on Pinterest and listen to an audiobook. J Or I bake and watch a movie.
Who do you most admire?
I hope it doesn't sound cliché or trite but my Savior, Jesus Christ. His sacrifice so we can return to live with Heavenly Father is beyond comprehension, but I'm so grateful he did that for us. I'm grateful he was willing to suffer for us, so that we might have that comfort from him in hard times.
What do you most want people to remember about you?
That I cared about my family, I was hardworking, and I was genuine.
One word to sum me up: Ugh, that's hard to do! Well-rounded I guess?