Ready for a virtual visit with another Northwest Arkansas mom? Tabitha Glenn is a teacher and she had a baby during this pandemic. She's a tough mama!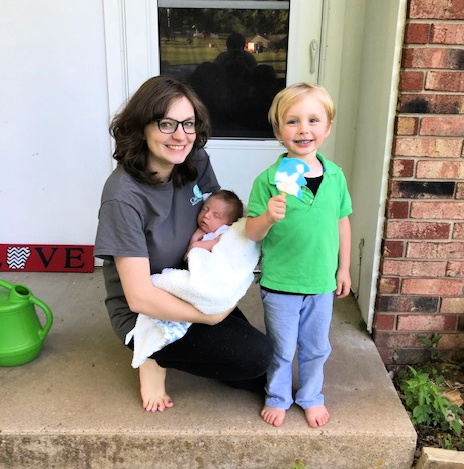 Children's names and ages:
Sawyer-3, Teddy-3 months
Where do you live in NWA?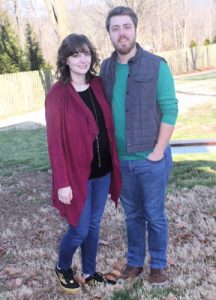 We live in Goshen, and we just love it here! You can't beat being about 10 minutes from Fayetteville while still having all the beauty of nature surrounding the house. It is a bit of a commute to our jobs at Bentonville Christian Academy, but the drive is completely worth all the creativity of being teachers, and being able to have a home in an area we feel comfortable in.
How have you been coping with having a new baby during a pandemic?
Overall, it really hasn't been bad. I do miss being able to get out of the house more often. However, I have really been soaking in this time with my baby!
How has your family been doing with social distancing?
Some of us better than others. I am an introvert, and I really don't mind being at home most of the time, especially when it's summer and I would be home anyway.
My husband usually runs the summer program at work, and he has really missed it. Sawyer gets a little bored sometimes, but we try to make it fun for him. I think, more than anything, it has made us realize how much time we spend running around and being busy with unnecessary things.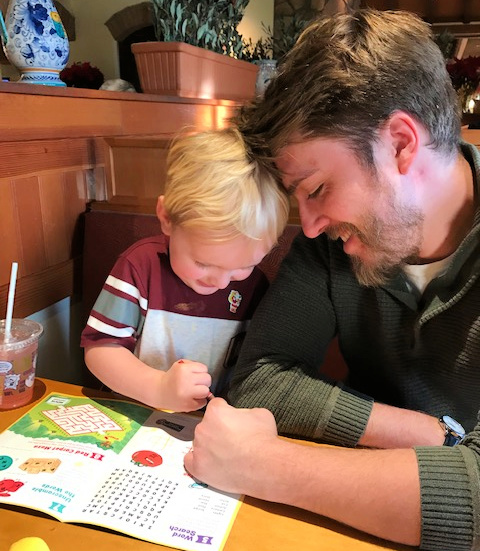 Are you nervous about going back to the classroom to teach?
We are actually excited about going back. Bentonville Christian has a maximum of 15 students per classroom, which means that social distancing is actually easily achievable for us.
I feel like our administration and school board really cares about the students AND teachers, so we are going to have the safest possible school environment. My husband teaches Kindergarten and I teach third and fourth grade.
We have both been spending time getting things ready for in-person or virtual classes. We are blessed to be at such an awesome school!
Share a typical day in your life with us during the pandemic:
We wake up pretty early, most of the time because Sawyer wakes up early. We have breakfast first, then spend time playing with the kids. Sawyer will watch one of his favorite shows while I tend to the baby and my husband does a little cleaning on the house.
Usually I try to get some planning done for the school year sometime during the morning. Then we have lunch, nap time for both the kids and I tidy up the house while they sleep.
Then just more playtime, dinner time and bedtime! If it's Sunday, we have church services online through the Farmington Church of Christ Youtube channel, then I usually do grocery pickup and spend most of the afternoon meal prepping.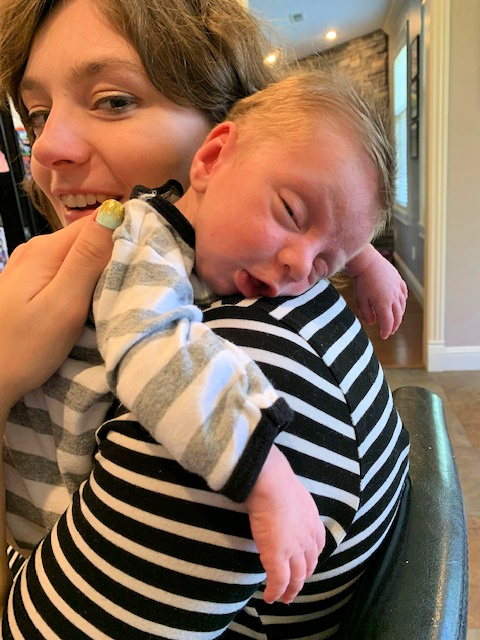 What's a meal you make over and over again for your son?
Lately it has been lasagna! I found an easy freezer lasagna recipe that his been pretty popular with my son.
If you could vacation anywhere in the world this summer, where would you go?
Oh, goodness. Any nice, warm beach.
If you could magically learn a new skill, what would it be?
Probably some sort of technology skill that I could use in my classroom.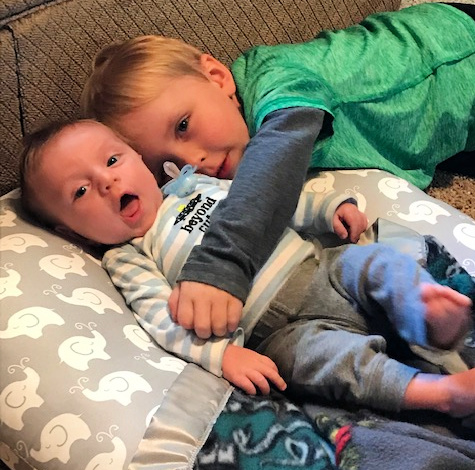 What's something your friends might not know about you?
I feel like if someone is close enough to me to be considered a friend, they probably know most things about me.
What's one of your guilty pleasures?
Listening to 90's boybands.
Pet Peeve?
When people try to talk to me while I'm on the phone.
Who do you most admire?

My Mammaw. She has been through so much and is so strong. My whole life, I have watched her care for others before herself. She is pretty amazing.
What do you most want people to remember about you?
That I showed the love of Jesus to others! I don't want to be thought of as angry or selfish. If I can live out 1 Corinthians 13, I will!
One word to sum me up: Content