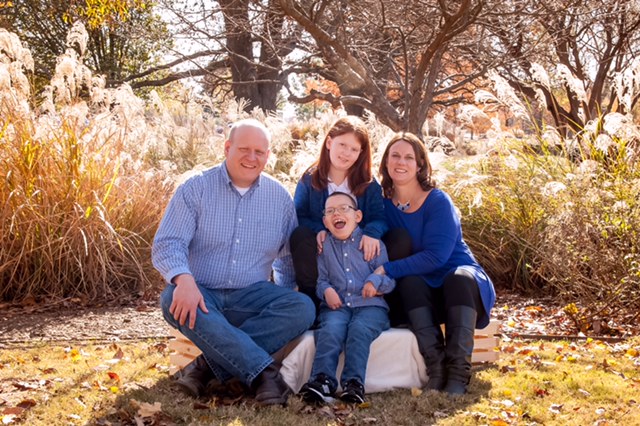 Susan Roberts is an advocate for kids with special needs and started a support group in Northwest Arkansas six years ago. We enjoyed getting to know this warrior mama a little better in this interview:
Kids' names and ages: Emilie 10 and TJ 8
Where do you live and what  brought you to NWA?
We live in Bella Vista. I moved to the NWA area in 2003 to continue my teaching career. I taught for McDonald County, MO school district while living here. I left teaching 10 years ago before my daughter was born.
How would you describe your family's "personality"?
Our family is "chill".  We like to spend time with each other at home playing board games or having movie nights.
Tell us about your children: 
My daughter Emilie is a spunky redhead who is just like me. She is spirited, faithful to her friends and empathetic to others. She is a 5th grader at Old High Middle School in Bentonville and enjoys creating art.
TJ is a 3rd grader at Cooper Elementary in Bella Vista, although his official classroom is self contained special education. He was born with a brain malformation called polymicrogyria where the folds of his brain formed many small folds rather than a regular brain pattern. His diagnosis is cerebral palsy. He is wheelchair bound, non-verbal and fed through a g-tube. He is a fun loving boy who loves to go to school and is laughing a majority of the day.  His smile brightens everyone's day!
What's something you wish everyone knew about cerebral palsy? 
Cerebral palsy is a group of disorders that affect a person's ability to move and maintain posture and balance.  People with CP fall within a wide range of ability levels. My son is at the lowest end of the spectrum since he has minimal control of his body.
Some people can have a CP diagnosis and only be lacking control of one body part. CP does not get worse over time, but the person's symptoms can change throughout their lifetime.
Tell us about the support group you started six years ago for moms of kids with special needs:
My son was diagnosed at 7 months old. I had a full year of depression and anger following this. I felt so alone.
One day I decided that I needed to find some other moms that I could talk to that I could relate with so I could get out of my funk. At that time there was only an autism support group and a Down Syndrome group in our area. So I decided to start my own group called NWA Mom 2 Mom.
We started with 7 moms in the basement of my former church. Now we have a Facebook group of about 500!  It is a faith-based, non-denominational support group for female caregivers of children with any disability in NWA. 
We strive to support one another through prayer and guidance on our difficult journeys.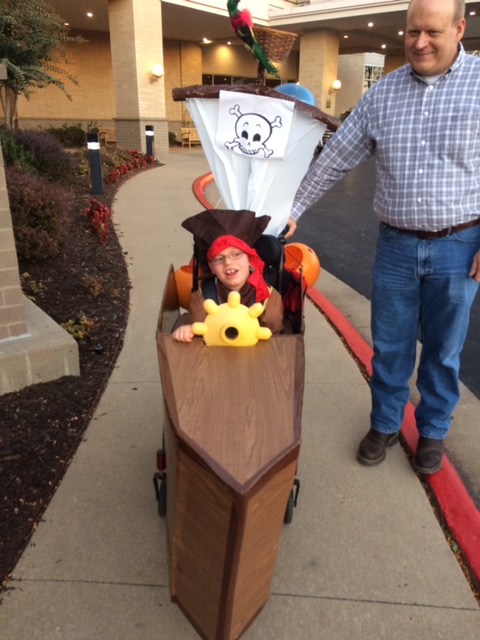 How do you help the moms in your group get connected to state resources? 
One thing that my husband and I both found to be frustrating was being able to locate and access disability resources in Arkansas. We thankfully live in a state that has great Medicaid coverage for our kiddos and offers many programs to help families with a disabled family member. However, many of these programs were hard to find.
It is my goal to help connect any family in need of resources to a program that will ease the burden. I serve as a parent advocate in the Medicaid Saves Lives Arkansas group which strives to bring information about our state's resources to all people with a physical  or mental disability.
What's your best advice for self care for moms of kids with special needs? 
This is a tough one for me! Most mommas put themselves last, and that is no different with special needs moms.  Our lives are full of doctor and therapy appointments, phone calls to and from insurance, medical professionals and school.
It's hard to find time for yourself.
However, when I realized that my son was going to be under my care for his lifetime, I knew that I needed to take care of myself. Finding a small bit of time for yourself is so very important to keep your spirit alive. I wouldn't be lying to say that this is an exhausting job I was chosen for!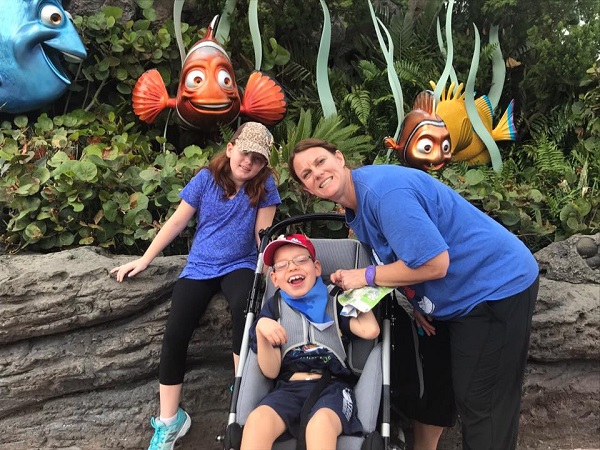 If you have friend with a special needs child, they most likely will not ask for help. The best advice I have for a friend is to just show up! Drop off dinner, take siblings off that momma's hands, and coffee or chocolate is always needed!
Where are your family's favorite places to hang out in the area?
Our family loves the Amazeum, Crystal Bridges, the biking trail and swimming anywhere.
Tell us about a typical day in your life:
My typical day is somewhat like a regular moms, but in a lot of ways is not. Taking care of my son is like taking care of an infant who weighs 50 lbs.
I have to get him ready and transport him to school every day. Then I get some "me time" at the gym. The rest of my day is preparing food and medicines for TJ, doing laundry or taking him to doctor appointments or therapy.   Our evenings are spent eating as a family and spending time with one another.
What's something you cook over and over again? 
My daughter is a taco fanatic! I love it because it's easy.
What are your favorite hobbies? 
Swimming and reading.
What would your best friends say you can't live without? 
Coffee.
What's something you'd love to do again?
I had the opportunity to visit my aunt and uncle when they were stationed in Hawaii for the Air Force when I was 15. I would love to go back with my husband someday.
Where's your happy place when the going gets tough?  
On the couch either reading or watching a show like This is Us.
Who do you most admire? Why? 
I admire my many special needs friends who have lost their children. All of them have risen above their grief to continue to support other moms. A few have even started organizations in memory of their children to serve others. It is truly humbling to see them take their heartache and turn it into an opportunity to serve.
What do you most want people to remember about you? 
That I served others and did my best to shine the light of Christ.
One word to sum me up: Passionate