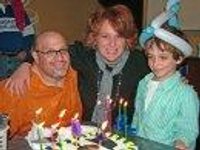 Name: Lauren Levine
Where do you live in NWA? We live in Rogers.
Your son's name and age? Evan (from Heaven) is 6.5
How long have you been married? Nine years
What was your first impression of your husband? I thought he possessed every quality I had asked for on my lists of wishes for my husband. And more!  This scared me.
Where were you born and raised? I was born and raised in Toronto and left 9 yrs ago.
What's your career background? I am an Expressive art therapist which despite what some think is not a therapist for sad paintings. I am a psychotherapist who believes in using a variety of artistic modalities in the therapy process.
All-time favorite chick flick? Crossing Delancy.  An oldie.
A book you've been meaning to read? Too many to list.
Best parenting advice you used and then passed along to another mom? When I was a big mouth teenager I dared to blame my mom for my bad behavior. She told me that I may be the result of some of her mistakes but now it's mine so go deal with it.  I counsel teens and families and share this story often. My mom disarmed me.
Worst parenting advice you received? "Nurse him on a schedule"
If the house was on fire (and all the people and pets were safe) what would you grab? Like everyone else, photos. And also my journals which I have dating back to when I was 12.
Your favorite way to relax? Lately I have been watching  a lot of house shows.
Your favorite place to hang out in NWA? Home
Your trademark phrase: "I go where you go"" which is something I used to say to my husband a lot.
Guiltiest pleasure? Can't fess up to that.
One word to sum me up … optimist