Happy Friday, mamas! Today we're turning the sponsor spotlight on the new voice of our "On Your Mind" monthly segment which focuses on answering common mental health questions from local moms. Local psychotherapist Lauren Levine tackled a particularly tough question recently and we were so impressed with how she handled such a sensitive topic with both solid advice and compassion.
Below is a Q&A with Lauren, and her next "On Your Mind" feature will publish later this month.
How did you get interested in becoming a therapist and how long have you been in practice? (Include some info about where you got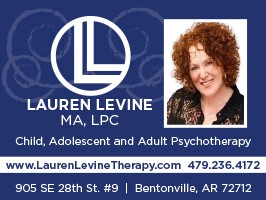 your degree, past work experience, etc.)
I have been a therapist since 1995 (ish) and have worked in a variety of  settings including being clinical supervisor at a day treatment program for young adults with developmental delays and psychiatric illness, eating disorders programs, child and family outpatient dept, at Ozark Guidance Center and most recently in my own practice for just over two years where I treat both adults and children.
I am certain that my profession chose me. I don't remember ever making a decision. It was more like following myself and my interests. I did an undergrad
in theater and described my acting 101 as my "therapy group". It was at this time I began to wonder about the healing arts and the role of the arts in healing. I did an intensive 3-year training program (ISIS Canada) in Toronto where I'm from and then received an MA in expressive art therapy from Lesley College in Cambridge MA.
You have such a fun, upbeat personality. How do you maintain a positive outlook as you help others deal with serious problems? Is it difficult to "leave work at the office"?
I consider my work an honor. My guiding principal includes remembering that I don't have the answers to anyone's problem. It would be arrogant of me to think otherwise. With this awareness I don't feel burdened by the need to fix or change others. I am there to support and guide those in making their own changes.
Describe a moment that made you especially happy to be a therapist.
Wow. There really are so many. I love the moments when I see the "aha" occur, when light bulbs turn on, when people get the connection to something that translates to a change in their behavior.
What's the most difficult or challenging aspect of what you do?
The potential for burn-out is the biggest challenge. I am the tool of the work I do. If I am not feeling emotionally strong then I cannot provide support and healing. This is hard because honestly who feels emotionally strong every day? It's a challenge to put myself aside and be present for those in my care. It's a challenge to make sure my clients' issues don't get tangled up in mine. Self-care is critical to be able to do this work and sometimes I forget to make myself a priority. It's a challenge to keep my vessel full enough to have enough to give to those I treat and those in my life.
We know you love your home country of Canada and go back for visits when you can. How did you and your family end up in Northwest Arkansas? What do you miss (and not miss) about living north of the border?
Yes, I love my home of Toronto. Falling in love with my husband brought me here 14 years ago (loooonng story short). There is nothing I don't miss about Toronto, and I try to go home at least once a year.
What do you like to do when you're not at the office? Tell us a little about your family, and what are you looking forward to doing this summer?
I like to socialize! I am an extrovert and enjoy being with others. I enjoy taking stabs at acting on occasion; I love being involved in our small synagogue in Bentonville where we are founding members; I love to ride bikes, and we have no big summer plans as of yet.
What do you wish more women and mothers knew about what therapists offer? Any misconceptions about the industry you wish you could clear up?
While I think the stigma of therapy is decreasing, I  still hear women feeling like they are supposed to be able to do it all while smiling. Sometimes having an oasis to express oneself and not be judged and to "unload" in a private setting can be so helpful in decreasing a sense of overwhelm, anxiety, and depression. 
I wish people would know that deciding to see a therapist is a strength and not an admission of weakness. I wish that people would let go of a medical model of wellness meaning to get rid of or cure aspects of ourselves and understand that true healing comes from acceptance and embracing who we are. This is an awareness I see grow in my clients.
If you'd like to ask Lauren a question about something on your mind, click the butterfly icon below and submit your question. The form is NOT tied to your email address or any other identifying information, therefore your question will be submitted anonymously. You can read the answer to your question by reading the therapist's response here on nwaMotherlode.com.