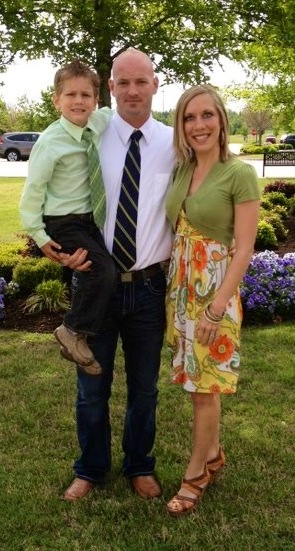 Name: Amy Hickman
Son's name and age: Zayde- 5
Where are you from and what brought you to NWA? I was born and raised in Fayetteville!
What's your favorite thing about being an elementary school teacher? The kids this age are still so sweet, the hours and the schedule!
If you could live anywhere in the world, where would it be? I have no desire to ever live anywhere else!
If you went back to college what would you study? I'm really not sure. I've known since I was 5 years old that I wanted to be a teacher.
If you had a whole day to yourself what would you do? Ha! Does that even happen in our dreams? 🙂 I would lie around, watch chick flicks, do some crafting and scrapbooking.
What's something you've been meaning to do but can't seem to get around to it? Organize my pictures.
What traditions do you hope to pass on to your son? Prayer time in the morning and before bed. Birthday breakfasts. Singing happy birthday to Jesus on Christmas. Once a week breakfast for dinner- ha!!
What's a make-up essential you couldn't live without? All of it- I'm a Mary Kay rep!! 🙂 No really, mascara for sure!
Do you have time for any hobbies/after-school activities? I wish!
What was the best parenting advice you received? Never spank out of anger- calm down and talk/explain to your child first.
The worst? Don't spank
If someone wrote a book about your life right now, what would a good title be? I Think I Can, I Think I Can, I Think I Can…
One word to sum me up… blessed