Dominique Seitz is a dynamo who also pours out peaceful vibes when you meet her. She was a volunteer greeter at last year's NWA Mom Prom and, as you'll read in her interview, it was the perfect place for her to get her dancing in for the day. Here's more about Dominique:
Son's name and age:
Taylor, age 10
Where do you live and what brought you to NWA?
We live in Siloam Springs. I visited Siloam Springs several times over the years but the Fort Smith area was home to me.
After my father-in-law passed away, we stayed in this area for a while and I fell in love with it. All of a sudden Siloam Springs felt like home and we decided to move a month later.
What's the funniest thing that happened to you as a mom most recently?
To get more active during the winter, we came up with games to play in the house. We have a rug in the living room and my son and I try to push each other off the rug. The person to touch the wood floor first loses. His moves are creative and effective, until he goes to the ground…then he's mine!
The scariest? 
We go hiking a lot. We were in the woods on a narrow path with a drop off on either side. Taylor did great, but seeing him walk that path and knowing I couldn't do it for him or make it safer was hard. It made me realize there are paths in his life that I will have no control over and that's scary.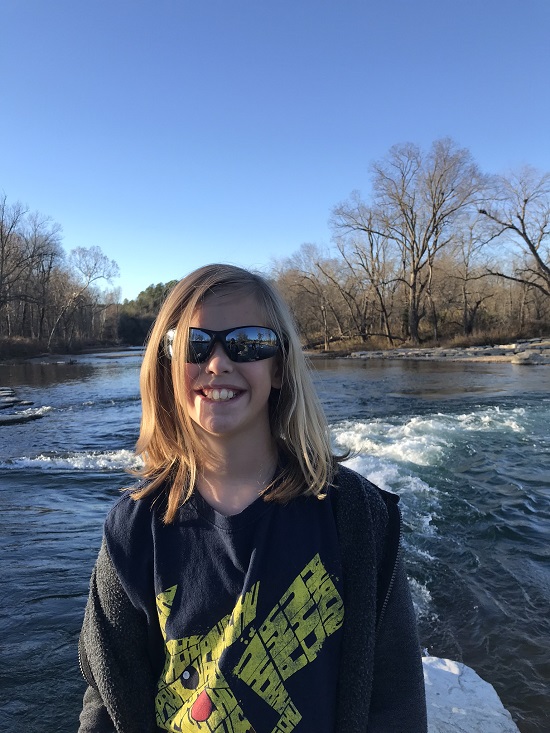 Where are your family's favorite places to play in NWA?
We love being out in nature. We enjoy the Siloam Springs Kayak Park, hiking around Lake Wedington and Hobbs State Park, watching eagles on the nature trail in Gentry and searching for fossils in our backyard.
Tell us about your new endeavor, Designing the Journey: 
It's been years in the making. My career has been mostly in IT. However, a few years ago I was moved to start speaking and teaching.
All the twists and turns in my life have taught me so much and I want to inspire and empower others to live their best life. Designing the Journey was created to help people change their world and have fun along the way.
Share a typical day in your life with us:
Hit the snooze, only once. Stumble into the kitchen to prepare breakfast and get Taylor up. We usually eat breakfast while watching SpongeBob.
Next we get ready for the day and hit the road for work and school. The drive to school is our time for prayers, gratitude and fun music. Then, it's off to work for me where I spend most of my time in meetings.
Lunch is always a nice break and I make time to clean up around the house, walk the dogs and eat a healthy meal. Afternoons are spent researching, working on special projects and connecting with organizations I'm involved with.
Josh, my hubs, is a great cook and we sit down as a family for dinner. Followed by cleaning the kitchen (while playing 80's music and dancing around). We top that off with some exercise and stretching. Then it's video game time for my son and hubs while I write. We gather in Taylor's room before bedtime to read or watch Phineas and Ferb on Netflix.
When Taylor and the dogs are all tucked in then it's lights out until the next morning.
If you could vacation anywhere in the world this winter, where would you go? Belize
What's your favorite NWA restaurant? Tacos 4 Life
If you could magically have a new skill, what would it be?
Speed reading. There are so many books I want to read and not enough time.
What's something your friends might not know about you?
I love to dance and do it every day.
If you got an unexpected gift of (a lot of) cash, what would you do with it?
Create an organization to help people learn about, interact with and care for rescued animals.
How do you relax when the going gets tough?
I clean and organize.
Who do you most admire? Why?
Hands down, my grandma. She could see the good in anyone or any situation. She lived a simple but full life. To say that she was amazing is an understatement.
What do you most want people to remember about you?
That I inspired them to change their world.
One word to sum me up: Spunky
Click here to read more 5 Minutes with a Northwest Arkansas Mom interviews. Our many thanks to First National Bank of NWA for sponsoring this feature, which celebrates all the unique moms here in Northwest Arkansas! CLICK HERE to visit the FNBNWA website or follow them here on Facebook. FNBNWA is a full-service bank and has multiple branches, including:
801 N Dixieland Road, Rogers, 479-621-6800
3706 Pinnacle Hills Pkwy, Rogers, 479-464-9060
E. Pleasant Grove Rd., Lowell, 479-659-7100
350 E. Centerton Blvd., (Hwy 102), Centerton, 479-795-4200
2638 E Joyce, Suite 1 Fayetteville, 479-856-7800
Save