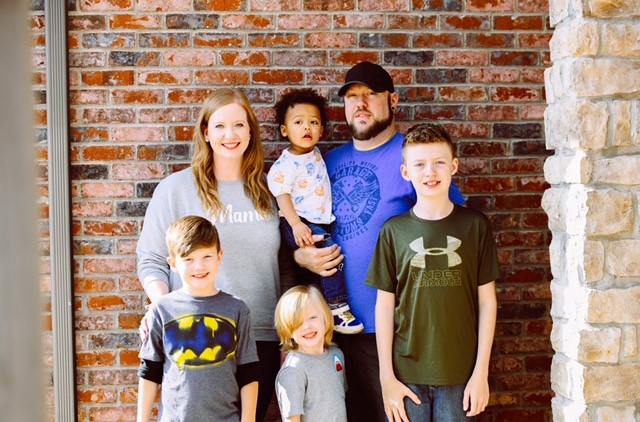 Allison Smith caught our attention with her blog, This Beautiful Mom Life. She shares a lot about her adventures as a boy mom there, but here are the CliffsNotes (before you you jump over to her site to read more):
Children's names and ages:
We have four boys in our arms and three in Heaven. Josey is 12, Gavin is 8, Parker Jack is 5, and Jensen is 2.
Our precious triplet angels Johnny, Jaxsen, and Asher would have been 10 this past summer.
Our boys have brought such love and joy to our lives over the last twelve years. Three of them changed the entire course of our lives when they went to Heaven. They constantly inspire us to be the best parents we can be. And one tiny baby came into our lives through adoption when we least expected it and showed us the true meaning of sacrifice, hope, and family.
Where do you live and what brought you to NWA?
My husband and I are both NWA natives. I grew up in Rogers and Mike grew up in Bentonville. We currently live in Bentonville.
Tell us about your job as a math and science facilitator. How is that going?
I work to support teachers as they improve math and science instruction. As my five-year-old says, I am a teacher to the teachers. I absolutely love my job, and am honored to work with the most amazing group of devoted educators you'll find. Seeing how the teachers, administrators, and support staff have all stepped up in these unusual times has been awesome to be a part of.
We are all thankful to be able to continue helping our students learn and grow whether it is in person, or virtually. School doesn't look or feel "normal" right now, but getting to come in each day and see that our students are eager to soak up everything school has to offer makes the challenging parts that much more special.
How have you been coping with momming during a pandemic?
Having the kids all home with very limited activities for months was definitely a challenge. We love to be going and doing all kinds of things, so we had to get pretty creative to fill our time. Working from home with four energetic boys sure made Zoom calls interesting. Ha! We are all happy that we are back at school, and have been able to resume some of the boys' sports activities.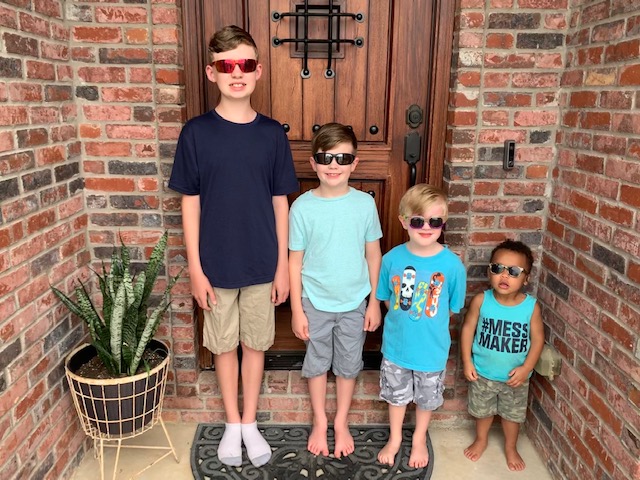 Share a typical day in your life with us:
My alarm goes off at 4:30am and I head to Burn Boot Camp Bentonville to get my workout in and back home before my guys wake up. I love starting my day with a little "me" time and the exercise helps relieve any stress I'm feeling.
After getting myself ready, I get the boys up and we dash out of the door at the last second headed off to three different schools. After putting in a day's work, my husband and I grab a designated child and rush them off to whatever sports practice or game that is going on that night. You'll often find the two of us sitting across town from each other watching two different sports. It's a lot to juggle three kids in sports (soon 4!) but we wouldn't trade these busy nights watching the boys do what they love for anything.
After dinner, homework, and bath and bedtime, we collapse on the couch to watch our current favorite binge-worthy show while we try to keep our eyes open long enough to finish an episode. A quick sleep, then repeat.
What's a meal you make over and over again for the kids?
Cauliflower tacos! We mix lean ground beef with riced cauliflower to make the most delicious tacos ever. The kids beg for taco night every night, and have no clue they are eating veggies. Winning!
If you could vacation anywhere in the world this fall, where would you go?
Somewhere on the West Coast. Our boys have never traveled more than a state away, so I'd love to take them to see the Pacific Ocean.
If you could magically learn a new skill, what would it be?
How to be somewhere early. Anyone who knows me knows I'll be the one sliding in at the last second and rushing the kids to get out of the car just a little faster.
What's something your friends might not know about you?
That I celebrated graduating college by getting a tattoo on my back. I even forget that it's there.
What's your favorite way to unwind?
Dinner on the back porch followed by playing in the backyard with the kiddos.
Name three things you always have with you:
Phone, mask, fun earrings
Who do you most admire?
My husband, Mike. He serves his family so well. He works hard to provide for us and to make sure that the boys and I never doubt for one second how deeply he loves us. He didn't have a great role-model to show him how to be a Dad, and yet he's one of the best you'll find. He is a man the boys look up to and hope to be just like one day.
What do you most want people to remember about you?
That I always shared the hard parts of our story in hopes of helping others who might be walking through similar struggles. We've navigated infertility, triplet loss, and adoption to build our family, but as I look back on our journey I want people to see that Hope was the thing that got us through. I always want to be the person who offers kindness and support to others when they need it most.
One word to sum me up:
I hope others would say "Kind."