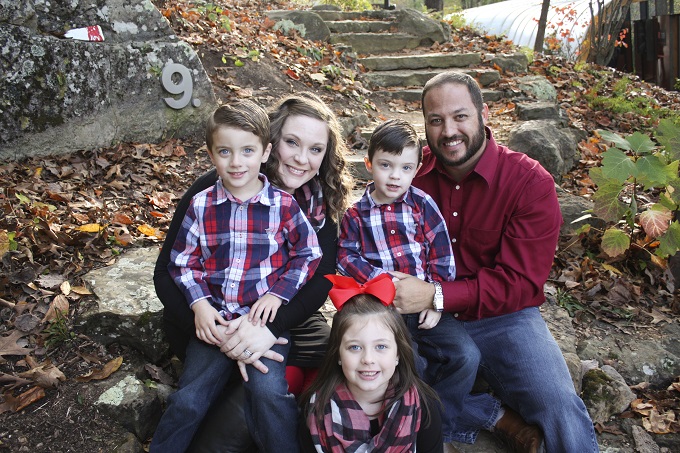 Jessica Skordal is the mama of three, a busy non-profit employee and a tireless advocate for her son, Dawson, who has autism.
Read more about her in this Q&A:
Kids' names and ages:
I'm the proud Momma of three littles. Macy is 8 & Jackson and Dawson are 4.
How would you describe your family?
​ Our family is a beautiful example of Organized Chaos. We spend our days moving morning, noon and night, but there is always a plan!
What's a piece of (hard-won) advice you give other mamas?
​ Motherhood is nothing you can ever plan for or predict. Things will happen. They will hit you in the gut hard and fast. But in the end, God has given you what you need to be what your babies need. Don't sweat the small stuff and enjoy the ride.
Tell us about a typical day in your life:
​As a mom, I begin my day between 5-5:30 am. Mornings are spent getting littles dressed, fed and out the door for school. At 7:00, we head out to school and drop off Macy. Then, we're off to Jackson & Dawson's preschool. After school drop off, I alternate between my two jobs, Executive Director of Events & Taxi Driver to Dawson.
I spend my mornings working at my non-profit office and then head back to Dawson's school for pick up at 11. I immediately take him to his private therapy and then head back to the office for another couple of hours. At 1:15pm, I take him home to do in home therapy from 2-7.
I'm also an Independent Director with Thirty-One gifts. So, while Dawson works with his therapy team, I usually squeeze in a few minutes of business.
At 2:45, Macy arrives home on the bus. Then it's all hands on deck for homework, AWANA Bible verses, and dinner. My husband arrives home around 5:30 with Jackson in tow and we usually eat dinner together. Then it's off to bath time and bed for the kiddos. Most of my evenings are filled with Thirty-One parties and non-profit events.  ​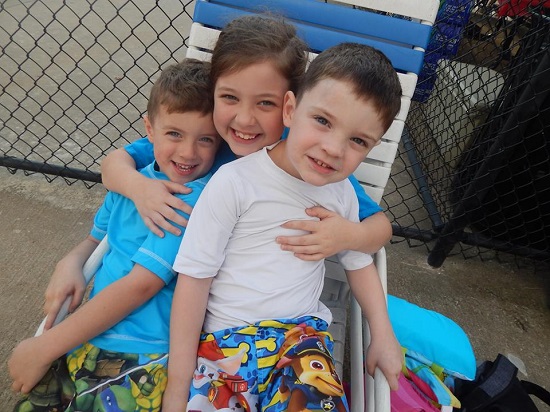 Tell us about your involvement in Autism Involves Me in NWA:
​ My involvement with Autism Involves Me (AIM) started shortly after one of my twins, Dawson, was diagnosed with Autism. He was three years old at the time and I was completely lost as to what this new normal would look like. ​
After spending a year getting to know the organization and attending events, I joined the team as a employee. I'm blessed to hold the position as Executive Director of Events. In this role, I get to serve families in NWA through sensory-friendly events, grant programs, education and more.
What are your favorite places to hang out in NWA as a family?
​Our family's hang outs look pretty different than most. One of the issues we struggle with because of Dawson's Autism is his sensitivity to sensory input. Nonetheless, we have no trouble having a good time.
We love playing outside, going to the Amazeum in Bentonville, bowling at the Rogers Bowling Center and spending time at the Bentonville Public Library. We also LOVE a quick dinner at El Farolito in Centerton.
What's you favorite guilty pleasure?
​ I love Netflix and Pinterest! I can sit for hours with both. My current binge is Friends. ​
What's something you'd love to learn?
​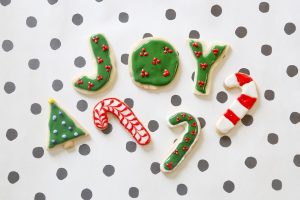 I would love to learn to decorate cookies & cakes. I LOVE to bake and think it would be so fun to create edible pieces of art.
What's the last thing the kids did to make you lol?
My Jackson is my comedian. He has the best one liners. He's also my ladies man. I have several little girls who have told me on more than on occasion that they will marry Jackson Skordal.
A few weeks ago, I was picking him up from school and the group was lined up to go in from the playground. As we began to walk to the car, he turned around to the line and in a loud voice said, "Okay girls….who wants a hug?" They all proceeded to run to him.
What's something you're known for among your friends?
​I can't believe I'm going to admit this. 🙂 I'm know for calling people Heifers. Ha! Not in a negative way. In fact, it's a term of endearment. But, my friends have learned that once I call you a heifer, you know you're in. ​
Who do you admire most? Why?
​My mom. She's an incredible business woman, mom, Gammy and friend. She loves my brother, step sister and I fiercely and is literally my children's favorite person on the planet. She is the Vice President of her company, but does everything in her power to ensure that she spends as much time with her grandkids as possible. ​
How do you relax at the end of the day?
​My husband and I love to curl up on the couch and watch a show together. Our current favorites are The Voice & The Good Doctor. ​
What's your go-to meal after a busy day?
​Spaghetti. My kids love it and I make the sauce from scratch and my daughter tells everyone that it's our family's secret recipe. ​
One word to sum me up:
​Advocate. I don't think it was a mistake that the Lord made me Dawson's mom. He knew I would fight tooth and nail for that boy. I love my babies fiercely. I will do all that I can to help them lead healthy, happy lives to the fullest of their potential.
Click here to read more 5 Minutes with a Northwest Arkansas Mom interviews. Our many thanks to First National Bank of NWA for sponsoring this feature, which celebrates all the unique moms here in Northwest Arkansas! CLICK HERE to visit the FNBNWA website or follow them here on Facebook. FNBNWA is a full-service bank and has multiple branches, including:
801 N Dixieland Road, Rogers, 479-621-6800
3706 Pinnacle Hills Pkwy, Rogers, 479-464-9060
E. Pleasant Grove Rd., Lowell, 479-659-7100
350 E. Centerton Blvd., (Hwy 102), Centerton, 479-795-4200
2638 E Joyce, Suite 1 Fayetteville, 479-856-7800
Save
Save