Stephanie Funk is a long-time friend who's also one of our favorite movers and shakers in NWA. Read more about Stephanie and her two beautiful girls in this interview:
Kids' names and ages: Charlie 8, Piper 3 (both girls)
How would you describe your family's "personality"? #coparentingAF
Tell us about your new position at Metova:
It's my job to make sure our clients' projects are a success. That means I help them really hone in on what they are building, for whom and why on the front end, and then I make sure that whatever it is in the end gets used by the right audience and seen by the right potential audience.
Where are your family's favorite places to play in NWA?
We live in downtown Bentonville and there's this amazing, shaded little park on the southeast side of downtown that we visit almost every day. It's never busy, so it feels like our own private place. We also go to the splash pad a lot, and we love to hike, so Hobb's State Park is a fun weekend activity for us. Oh and we love to eat! Our hands-down favorite place is Yeyo's at the 8th Street Market. I'd say we're there at least twice a week.
Any new discoveries in the area that you love?
We love Beer & Hymns at Bike Rack Brewing (also at 8th Street Market), which is surprisingly family friendly. It's once a month and a fabulous way to connect with our neighbors while singing. It really is so much fun.
Tell us about a typical day in your life:
I get up around 5:30, and if it's my week to have the girls I roll them out of bed, brush their hair, and put them in the car and drop them off at school. Then I go to the gym before work. My office in Fayetteville is at the top of the EJ Ball building, so I really don't mind the commute. The view is worth it.
I generally take several conference calls and send lots of emails. At the end of the day I head home, grab the girls, feed them something quick & easy and head out to the park. Bedtime is 8:30, so I tuck them in and then plop down on the couch with my iPhone and do a little Instagram scrolling.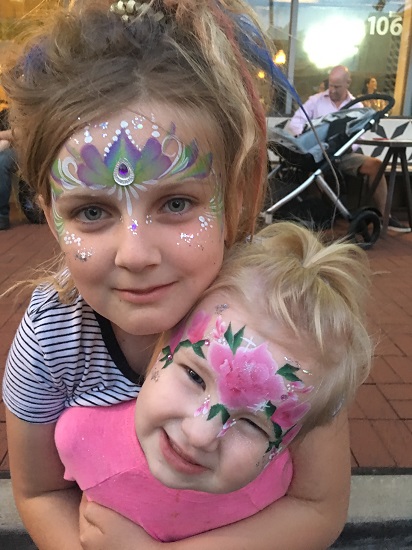 Do you have any fun summer plans?
Don't tell the girls, but we're going to NYC for the July 4th holiday!
What's something you would eat every day if you could?
Mexican Street Tacos
What's something your kids ask you to do for them and over again?
My three-year-old raises her arms to me and says, "Hold you". I cannot resist this and she knows it.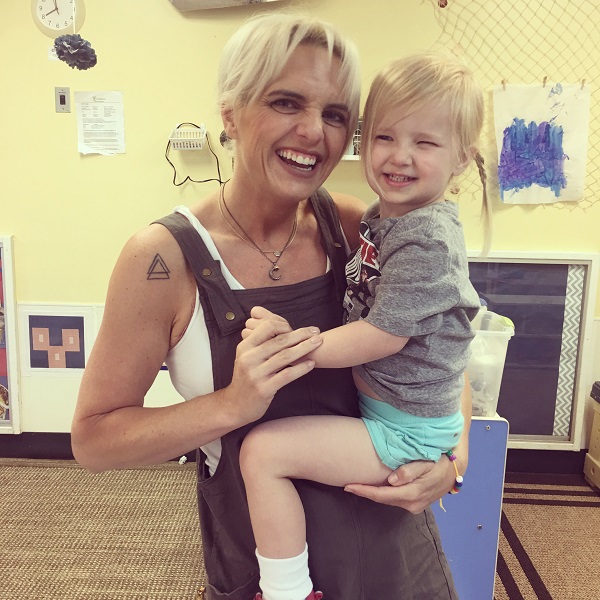 What are your tried and true ways to stay grounded on a busy day?
I have a pretty chill outlook on life, so when I get overwhelmed I have a few tactics that serve me well. I pause and ask my Higher Power for direction or I call my friend Julie who always has sage advice.
Which three words would your best friends use to describe your personality?
Driven, Passionate, Intuitive
Where's your happy place?
Pacific Palisades just outside LA
Who do you most admire? Why?
P!nk. No kidding. Three reasons: 1) She has had sustained and growing success over the years. She has only gotten better. 2) Her lyrics are bold and relevant, and 3) She is a delightful parent. I love her fierce loyalty to and passion for her kids.
What do you most want people to remember about you? That I am unafraid.
One word to sum me up: Curious
Click here to read more 5 Minutes with a Northwest Arkansas Mom interviews. Our many thanks to First National Bank of NWA for sponsoring this feature, which celebrates all the unique moms here in Northwest Arkansas! CLICK HERE to visit the FNBNWA website or follow them here on Facebook. FNBNWA is a full-service bank and has multiple branches, including:
801 N Dixieland Road, Rogers, 479-621-6800
3706 Pinnacle Hills Pkwy, Rogers, 479-464-9060
E. Pleasant Grove Rd., Lowell, 479-659-7100
350 E. Centerton Blvd., (Hwy 102), Centerton, 479-795-4200
2638 E Joyce, Suite 1 Fayetteville, 479-856-7800
Save
Save