Left: Hydrafacial
Mamas, if your husband is looking for gift ideas for you this year, you may want to send him a link to this post about the HydraFacial®. It's a non-invasive resurfacing facial that enhances the health and appearance of your skin. We guarantee a gift card for this service at Revive will make you very happy. This multi-step treatment cleanses, peels, exfoliates, and extracts while removing impurities and replenishing vital nutrients to skin. The HydraFacial® even targets specific skin concerns like fine lines and wrinkles, dark spots, and hyperpigmentation. The HydraFacial® is perfect for all skin types and provides immediate results in as little as 30 minutes, that will leave your skin feeling refreshed, renewed, and invigorated. Click here for more info about Hydrafacials.
Right: Click here for more info about CoolSculpting
So what is CoolSculpting? This patented technology safely delivers precisely controlled cooling to gently and effectively target fat cells. The fat cells are crystallized (frozen), then die. Over time, your body naturally processes the fat and these dead cells, leading to an approximate 30% reduction in the fat cells of the treated area. CoolSculpting can target a variety of areas, including the stomach, thighs and chin. Revive offers a free consultation. You can buy a gift card for CoolSculping or let the gift recipient decide on the service. Click here for more info about CoolSculpting.
Where to shop in Fayetteville: Revive Medical Spa is located at 1444 E. Stearns Street in Fayetteville. For more info on these two services or any of the services the spa offers, call 479-287-4738.
See more: Keep up with the Revive's latest offerings by following them on Facebook and Instagram. See the full range of spa services by clicking here to visit the Revive website.
---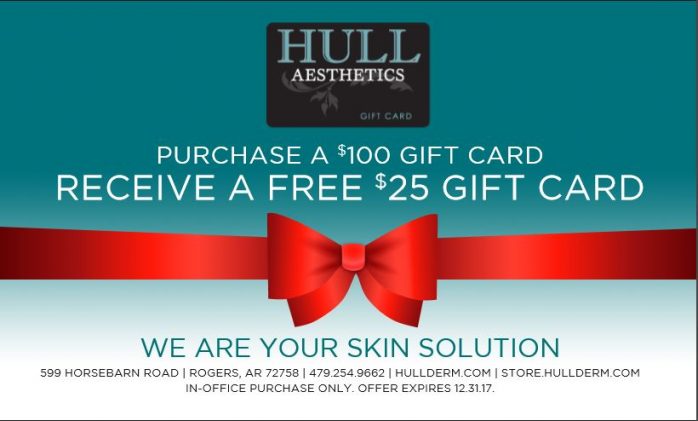 Gift idea: Hull Aesthetics Gift Card
We love a gift that's so open-ended that the gift recipient gets to decide how and when to use it. So if you're looking for a gift that will feel like a true luxury but is also flexible, you can't go wrong with a gift card from Hull Aesthetics. (You can now get aesthetic services from Hull at the Springdale location as well as the Rogers location.)
Your gift recipient can use the gift card toward services including facials (including HydraFacials), microdermabrasian, tanning, waxing, tattoo removal, laser hair reduction, chemical peels and even things like eyebrow and eyelash permanent curling and tinting. (There are more than 30 aesthetic services you can choose from when deciding how to use the gift card!) There are also services geared specifically for men. Click here for more info on gift cards and the services available.
Where to shop in Springdale and Rogers: Find the Rogers location at 599 Horsebard Road. The Springdale location can be found at 6879 Isaacs Orchard Road. For questions about services or gift cards, call the clinic at 479-254-9662.
See more: Keep up with Hull Dermatology & Aesthetics by following them on Facebook, Twitter, and YouTube.
Save
Save
Save
Save
Save
Save
Save
Save
Save