Let me just start by saying I am crazy proud of my nwaMotherlode business partner and amazing friend, Gwen Rockwood.
She has done something very brave. She has done something many writers only dream about. She has done something that required tons of internal wrestling, late nights, stress and vulnerability.
What she has done has resulted in her first fabulous book, Reporting Live from the Laundry Pile: The Rockwood Files Collection. (The book trailer at the top just adorable, yes?)
This is a collection of her best newspaper columns from the past 17 years. Isn't that a long time? We joke that she blogged before blogging was cool 😉
On Friday night, we'll celebrate this momentous occasion with a drop-in book launch party and we'd love for you to join us. It's from 6-8 p.m. at Nightbird Books on Dickson Street. We'll have snacks and books and free gift wrapping. Gwen will read from her new book around 7 p.m. Reporting Live From the Laundry Pile is an awesome gift for any fellow mother, grandmother or that friend who wants to know the real truth about what it's like to bring children into the world and occasionally want to take them out. (I joke!)
Here's your invitation below. Just RSVP to me (Shannon) via phone or email: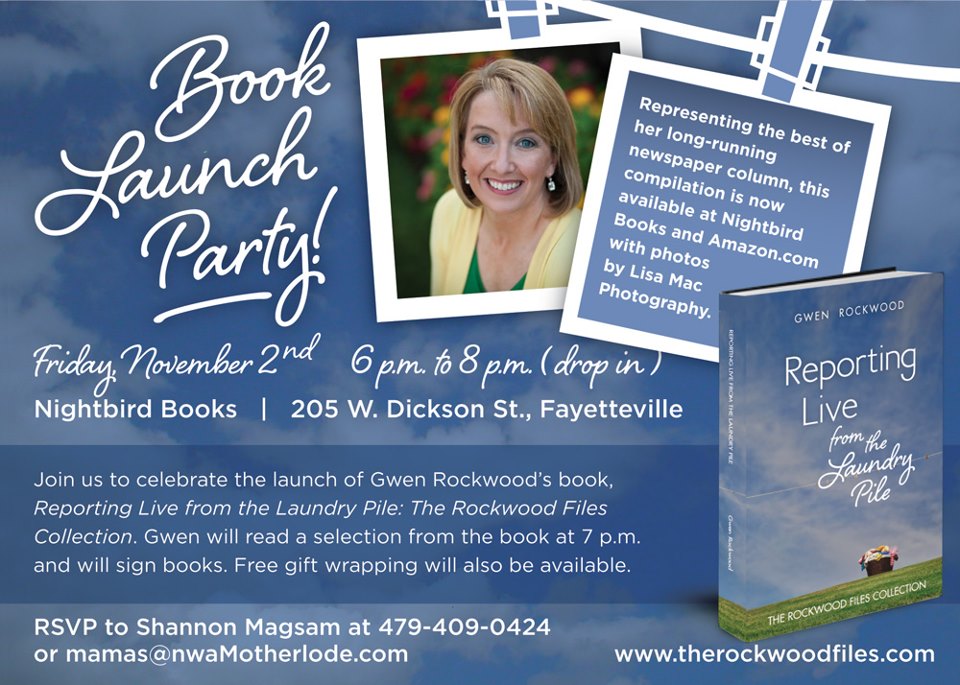 We're getting this book launch party started early with a giveaway. We've got THREE of Gwen's signed books to give away to to three different mamas!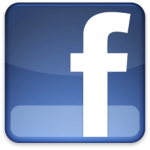 HOW TO ENTER: To enter to win one of Gwen's signed books, just CLICK HERE to visit her Facebook page and leave a comment about what you'd rather be doing instead of laundry. Reading a book, perhaps? Shopping? Playing outside with the kids?
You're really going to love this book. All moms will catch glimpses of themselves in these stories — if not entire pictures!
I've worked alongside Gwen since we first started developing ideas for nwaMotherlode in late 2007. We weren't tight friends at the time – more like work associates – but believe me, starting a business with someone will either make you very close or make you wish you'd never heard the phrase "business partner". I tell Gwen all the time that I wouldn't want to be running our business with anyone else.
All that to say, she's the real deal. She's a mom who adores her kids, her husband, her parents and her friends. She's exceedingly loyal. Her writing goes straight to the heart — usually by way of the funny bone. She's so, so smart. And I love that she often reminds me how important it is for mothers to take off our Supermom capes. Because not one of us is perfect – and never will be. But, just like the rest of us, she's the perfect mom for her kids (and I think she's pretty perfect, period!).
This book is an honest accounting at Gwen's journey from single girl in the city to married mama of three who runs her own business, stares down snakes on the front lawn and does lots and lots of laundry.
This book is a long time coming. So a HUGE congratulations, Gwen! Cheers!
If you can't make it to the party (and we know many of you out-of-towners can't), Reporting Live from the Laundry Pile: The Rockwood Files Collection is available at Amazon.com and at Nightbird Books in Fayetteville.