It's that time of year again… the time when the kids are in classrooms with lots of other kids and lots of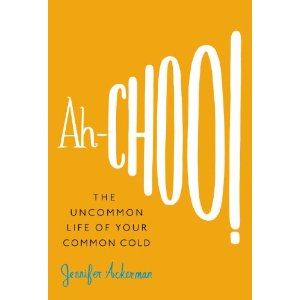 other germs. And that means somebody is gonna catch a cold and bring it home. So this book, recently profiled in People magazine, caught our attention.
Ah-Choo: The Uncommon Life of Your Common Cold
This book is written by  scientist Jennifer Ackerman, who gives us the facts about things like supplements, going outside with a wet head, chicken soup and much more. We'll definitely be checking this book out for cold and flu season. (Click here to read more about this book on Amazon.com.)
If you're looking for a good book for the kids, check out these two titles recommended to us by local mom Laurie Marshall. (Her brother Brian Biggs is the illustrator on both of these books, which would be perfect to read in the weeks leading up to Halloween.)
Beastly Rhymes, by Judy Sierra and Brian Biggs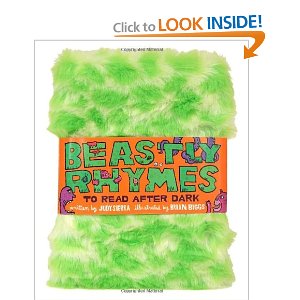 This book of beastly poems is bound by a cover made of fake green fur! The cover alone will make it extra cool in your kids' eyes. The reading level on this one looks to be late elementary or early middle-school, but it would also be fun to read it aloud to smaller kids. You can read more about it and see a preview of some of the poems by clicking HERE to go to the Amazon website.
One Beastly Beast, by Garth Nix and Brian Biggs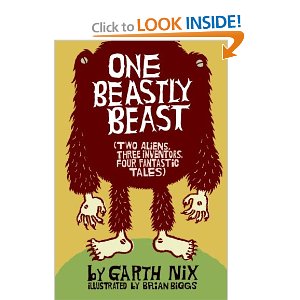 Here's another great pre-Halloween read for kids who like fantasy stories. This one is good for kids in grades 3-5. The messages in these stories stay positive, and the circumstances are pretty funny. Click on the book cover on the right to read a review of the book from the School Library Journal and Booklist. (We also like that the price on this hardcover book is great!)
Goodnight Goon, by Michael Rex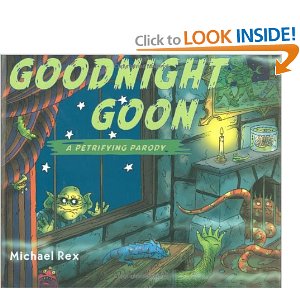 Perfect for kids who love to be scared (but not too scared), this book is a "petrifying parody" of the popular children's book "Goodnight Moon". While the little bunny is a monster in this book, but he's wearing the right PJ's and says goodnight to various things around his room. Instead of an old lady whispering "Hush" there's an old werewolf hollering "Boo!" For grades 1-3.
It's hard to read if you can't see the words too clearly! So please keep in mind that this great feature is sponsored by Witherspoon Optometry, owned by Dr. David Witherspoon and Dr. DeAnne Witherspoon. Their practice is located at 5212 Village Parkway in the Village on the Creeks plaza in Rogers. You may also call 479-464-9702 to ask questions or schedule an appointment. Click here to visit them online.