By Devin Stanley, Youth Librarian at the Fayetteville Public Library
This summer at the Fayetteville Public Library, we'll be promoting health and fitness as a part of our Summer Reading Club!
We are big believers in using books to inspire children of all ages to learn new activities and explore their surroundings. Each month we add new picture books to our already expansive collection. We picked a few to share with you today that will help get your kids up and moving!
Gator Dad by Brian Lies
"Come on—let's go! Let's squeeze the day!" roared Gator Dad to his three slumbering little gators. So starts an adventurous day with an abundant, though fried and fishy breakfast (what else would gators eat?). Throughout the day, Gator Dad will lead his little ones in supermarket competitions, wilderness explorations, and swing-set races to the moon.
This book not only celebrates the many recreational activities to be found outdoors, at home, and even while running errands, but it also celebrates a special figure in a child's life: Dad. Gator Dad is a great example of showing how the little things in life are made special through time spent with loved ones, as he says, "I'll be your raft on a sea of grass and a tree for you to climb."
Brian Lies is the author and illustrator and his use of rich hues and subtle humor will be engaging for ages 2-4. With Father's Day around the corner, this book is a perfect checkout!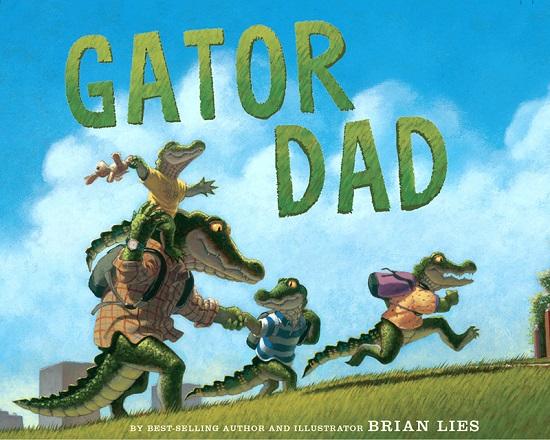 The Cow Who Climbed a Tree by Gemma Merino
Tina is a cow but not any ordinary, run of the mill, only eat grass and moo kind of cow. No, Tina is an adventurous spirit, determined to make new discoveries and solve the mysteries of her world.
Unlike her normal (and slightly boring) sisters, Tina explores the outdoors daily, and, thanks to her adventuring spirit, she makes an unlikely friend: a red boot wearing, plant eating dragon. Together they make new and exciting discoveries that are depicted in beautiful watercolor shades of red, yellow, and blue that mix together to make all the shades of the rainbow.
Gemma Merino is the author and illustrator. This book is appropriate for ages 3-5 and will inspire readers to independent thinking and outdoor exploration.
Clothesline Clues to Sports People Play by Kathryn Heling and Deborah Hembrook
"High on the clotheslines/ the clues swing and sway/ who uses these things/ for the sports that they play?" Rhyming riddles catch the reader's attention as they learn about baseball, soccer, tennis, fencing, basketball, football, and archery.
With so many sports to introduce your young child to, this book is a perfect read aloud to start the conversation and encourage them to try something new.
This book is illustrated by Andy Robert Davies. His use of bright colors with simple, clean edges is perfect for ages 2-5.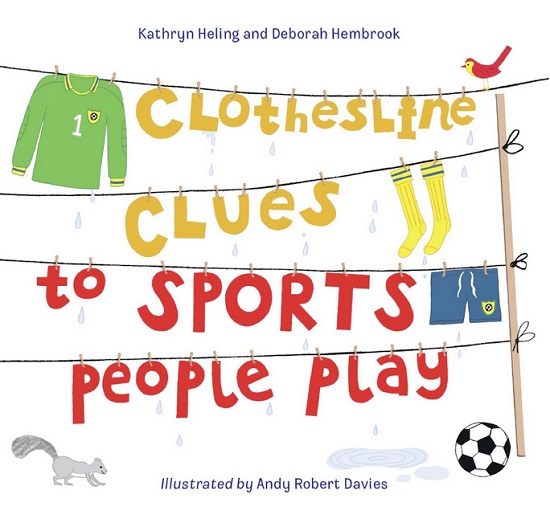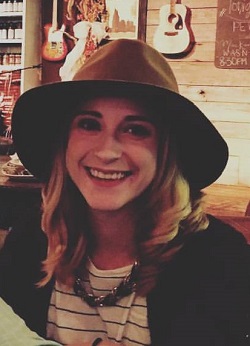 Devin Stanley has been a youth services librarian at the Fayetteville Public Library for four years. She designs and leads programs for all ages including story time for toddlers and babies, as well as STEM oriented workshops for elementary and teen students.
  She develops three juvenile collections – parenting, easy reader, and world languages; assists in developing picture books, juvenile film, and the read aloud section; coordinates the 1000 Books Before Kindergarten program, facilitates the introductory volunteer program called 7Ups!, and runs the Homework Helpers afterschool tutoring program.
Devin has worked at the Fayetteville Public Library since the age of 14 and considers the library her second home. She shelved recently returned books and worked the circulation desk for six years before moving to the youth services department and obtaining her Master's in Library Science and Information Studies.