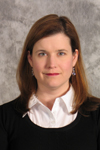 Dr. Cara Riley, D.O., is a new internist at Bentonville Medical Associates, part of Mercy Health System of Northwest Arkansas. We asked Dr. Riley some questions about keeping kids healthy now that school's in full swing.
Now that my children are back in school and around lots of other kids, what can I do to help keep them healthy?
Make sure they get to bed on time. Feed them a breakfast with some protein every morning. Protein stabilizes blood sugar and makes their brains work better. Send lunches without processed foods or foods high in sugar and fat. Try tea tree oil shampoo and hair gel for lice prevention!
What are some common illnesses you see with school-age children?
Common colds
Head Lice
Stomach Flu
Constipation
Ear Infections
Most of these are unavoidable but good hand washing, diet, and avoidance techniques can help.
What about common injuries among school-age children?
 Ankle Sprains and other various broken bones
 Scrapes and cuts
 Insect Bites
Once again, mostly unavoidable, but you can coach caution!
Are there any booster shots that my older child needs to get?
As long as you're keeping up with your yearly well-child checks and flu shots, your kids should be caught up.
Are doctors expecting Swine Flu to be a problem again this year? When is the best time to get the flu shot?
The swine flu vaccine from last year will be incorporated into the seasonal flu shot for this year. Swine flu is expected to still be around this year but will probably not reach pandemic status. Generally I suggest starting flu vaccination at the end of September or the first of October. The only people who need two flu shots are people with chronic illnesses like severe asthma or children that are receiving their first vaccination.
We know you're a mom, too! Tell us a little about your kids:
I have 2 daughters, Hannah and Abby, who will be 7 and 3 in October. Hannah is a very lively first-grader who goes to Baker Elementary and enjoys piano and karate. Abby is my calmer child who will be starting Walnut Farm Montessori in September and is currently obsessed with puzzles. We also have a 1-year-old Shih Tzu, Mr. Nibbles, who enjoys attention of any kind, even if it involves being dressed up in doll clothes. 🙂
How do you balance the roles of mom and doctor?
Since my husband Phil is a cardiologist, I only work 3 days a week which allows me to have a lot more time to get stuff done at home and spend time with the girls. I also have a great helper, my mother, who is our nanny when I'm at work. I do a fair amount of errand running during lunch, too!
How do you feel being a parent affects the way you practice medicine?
Well I certainly empathize with young parents who are going through the same rigorous young child years that I am. However, as I am an internist, the majority of my patients are older than me, so I end up getting a lot of advice!
How long have you lived in NWA?
I grew up in Springdale and graduated from Springdale High School in 1992 and then the University of Arkansas in 1996. I spent 12 years in Tulsa, OK, getting my medical training and then waiting for my husband to finish his training. When we (finally) got done, I wanted to move back to NWA to be close to family. I also thought it would be a good place to raise our children.