By Marci Tate, Vandergriff Elementary Library Media Specialist
February might be the month of romance, but it is also still cold enough to want to snuggle under the covers with a story of love! (Click on the book cover to order.)
The Overnight Socialite by Bridie Clark is a re-make of Pygmalion taking place in Manhattan among the Park Avenue wealthy. It's easy to root for the main character, Lucy Jo Ellis, as she navigates the ways of the rich and powerful. Lucy Jo wants to be a fashion designer.  After attending a disastrous fashion show, she meets Wyatt Hayes IV. Wyatt has come up with a grand idea to take a nobody and train them to be the most popular socialite in town. Only a few people are in on the arrangement and Lucy Jo only knows half of the story.
The supporting characters help to keep the story lively and even though you think you know it will all end, it is pretty fun getting there.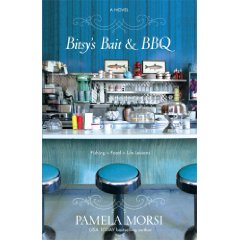 With a setting that feels close to home, Bitsy's Bait and BBQ by Pamela Morsi is more than typical "chick lit". Emma and Katy are sisters who couldn't be more different. Emma is the responsible one who should be finishing college, but instead helps pick up the pieces of Katy's situations. Katy is recently divorced with a young son to raise so she decides to find a better life for them in a small Ozark town.
Sight unseen, she buys what she believes is a Bed and Breakfast. Upon arrival, Emma and Katy discover that they should have looked a little closer at the picture, because it is actually a bait and bbq shop. Katy is determined to make a go of it and Emma is going to stay to help her get on her feet. The townspeople make great characters and are behind them 100%. Katy's ex-husband makes an appearance that alters the course of everything.  Emma finds friendship and understanding in this small town. A very enjoyable book.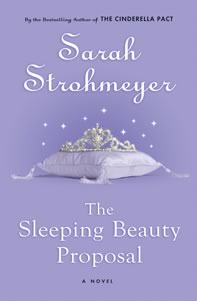 Sarah Strohmeyer has written several fun romances.  The title of this one just makes you want to pick it up for a little escapism. The Sleeping Beauty Proposal is the story of a woman who seems be "sleep-walking" through the best years of her life waiting for a proposal that isn't coming. Genie Michaels and the rest of the world believe the proposal has arrived when her boyfriend of several years goes on national tv to promote his book and proposes "to the love of his life". Turns out the love of his life is not Genie, but someone he is having an affair with. Genie's best friend convinces her to just go with it, since he is out of town and nobody will know she wasn't the one getting the proposal. This starts a chain of events that wake Genie up from her mundane life. Insert a cute carpenter and you have the makings of the kind of fun story to make you forget your troubles.   
There is no better time to bake than the month of February. Celebrate with your sweetie by trying something from The Cake Mix Doctor Returns by Anne Byrn. Ten years after her popular Cake Mix Doctor, Anne Byrn is back with more comforting recipes using cake mixes. She has updated some favorites and added some reader recipes as well. She gives tips along the way to turn out the perfect cake. Sheet cakes, bundt cakes, layer cakes, plus muffins and cookies make this a yummy book to inspire great baking.  All of the cakes seem fairly easy and ingredients all begin with an easy to purchase cake mix. I still love the chocolate cake recipes and wish I could try a different one each week (but then, I would weigh 500 pounds)! (Click here to go to the Cake Mix Doctor's blog and see great cake and cupcake ideas!)
Submitted by Marci Tate of Fayetteville – busy wife and mom of two, avid reader (when time allows) and Library Media Specialist at Vandergriff Elementary School.