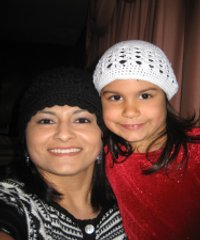 Name: Nuvia Swanson
Daughter's name and age: Jada, 6 years old
Where do you live in NWA? Lowell
Where were you born and raised? I was born El Salvador, moved to Los Angeles, CA when I was 6yrs old then moved to Rogers, AR when I was 16 yrs old. Junior year in High School, hated every bit of it. But my parents felt this was a much better place to raise us 3 kids. I have a younger sister (Leslie) lives in Texas and younger brother (Geoff) lives in Rogers.
If you could live anywhere in the world, where would it be? As of right now, only place is NWA.
Your favorite vacation spot? St Thomas USVI. It's very beautiful there. We were there just last summer, my fav island was St John.
If you went back to college what would you study? I would definitely go into the medical field.
What's your work background and current occupation? Banking is all I know. I was blessed to go into banking while still in high school and haven't done anything different. I am currently employed by a wonderful company here in NW Arkansas and have been with them since May 1998.
If you had a whole weekend to yourself what would you do? Shopping. Shopping is my weakness.
What are some of your favorite things to do with Jada? Shop, cuddle, play with Barbie dolls
How did you tell your husband about being pregnant with baby No. 2? We had been trying for 8 months and so when I was about 5 days late, I took a pregnancy test at home. After so many negative results, this time I had not gotten my hopes up. So when it said "pregnant" I could not believe it. I ran across the house with the stick in my hand and showed it to him with little hesitation. I will find out the sex of the baby in May or June. I am currently 8 wks along.
What traditions do you hope to pass on to your children? Always celebrate birthdays with a cake & candles.
What's a make-up essential you couldn't live without? Mascara.
What would you do with the unexpected gift of lots of cash? Even though I love to shop, believe it or not, that would not be my first thing. I would try to be a blessing. Give unto others, as I give unto you. (sound familiar?)
What are your favorite hobbies? Scrapbooking, reading magazines, watching movies.
What was the best parenting advice you received? Cherish every moment whether it be good or bad.
If someone wrote a book about your life, what would a good title be? Against all Odds.
One word to sum me up … Grateful.