By Marci Tate, mom of two and library media specialist
If you have an interest in reading about Arkansas, don't miss Arkansas Food:  The A to Z of Eating in the Natural State by Kat Robinson. This book not only focuses on foods common in Arkansas, it also features brands and restaurants in all areas of the state.
There were places I have visited and places I want to find when I am in different areas of our state.
Some of the restaurants mentioned are no longer open, but their story and sometimes even a recipe is featured. I particularly loved finding a recipe for Venesian Inn's Italian Salad. There are interesting stories, recipes, and photos on every page of this enjoyable book. Whether you are a native Arkansan, a visitor, or a transplant, there is something for everyone here.
Diane Chamberlain has created another intriguing gem with Big Lies in a Small Town. Morgan Christopher is serving time for a crime she did not commit. Her dream art career is derailed until a visitor offers her the chance for freedom by restoring an old post office mural.
As she works, we learn more and more about Anna Dale, the creator of the mural.  Anna's story begins in 1940 when she arrives in Edenton, North Carolina to create the mural for the city's post office. Their two stories intertwine and lead to a compelling ending.  Mystery, murder, and history make this one hard to put down.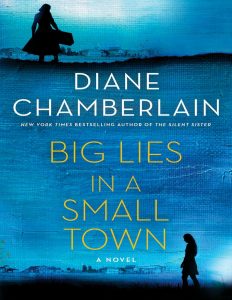 If you like a solid character-driven story, try The Authenticity Project by Clare Pooley. Julian Jessop is a lonely septuagenarian artist who writes his truth in a green notebook and leaves it behind in a café.  Monica finds the notebook and adds her story. As the notebook passes through the hands of different characters, their lives begin to change as they share their true selves. Relationships of all kind make this one relatable and enjoyable.
If you are doing some spring cleaning that involve books, consider making the rounds to our local Little Free Libraries. While some stay well stocked, others need some love.
Little Free Libraries found on school campuses are typically stocked with only age-appropriate books. So, if your kids have books ready to be cleaned out, you can take them to a Little Free Library near a school and do a book swap. For adult reading, look for locations in public places. You can find a map of Little Free Libraries at littlefreelibrary.org.
Public libraries often have books sales as fundraisers and will sometimes take drop off donations (call your local library first to confirm they can accept your donation).
P.S. from the mamas: Don't forget about the book we mentioned earlier this week from Dr. Margaret called Perfectly Hidden Depression.
Marci Tate of Fayetteville is a busy wife, mom of two, avid reader (when time allows) and Library Media Specialist at Vandergriff Elementary School.