By Marci Tate, Vandergriff library media specialist and mama to two teenage boys
Leaves are falling and books are calling! It's the perfect time to find a new book to enjoy!
So far, my favorite book of 2019 is The Book Woman of Troublesome Creek by Kim Michele Richardson. Cussy Carter is the last of the blue people of Kentucky. She is working as a determined Pack Horse Librarian delivering to the impoverished hill people. This is a story of hope and heartbreak. You can't help but fall in love with Cussy and her hill people.
As soon as I finished reading this one, I wanted to know more about the blue people of Kentucky and the Pack Horse Library Project. A unique and powerful book.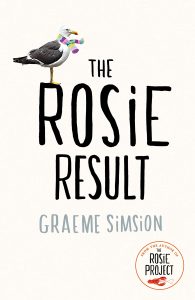 If you were a fan of The Rosie Project, you can't miss the final installment of the trilogy called The Rosie Result by Graeme Simsion. I didn't enjoy the second book as much as the first, but I was happy with this one. Don Tillman and Rosie have a son, Hudson, who is as quirky as his father. At age 11, Hudson needs help navigating friends, school, and his parents. Characters from the previous books make appearances and tie up the story with a satisfied ending. Don and Rosie are characters you will not forget. (The Rosie Project movie is in development, FYI.)
Psychological thrillers are the best when the ending catches you by surprise. The Silent Patient by Alex Michaelides focuses on Alicia Berenson, a famous painter. Her husband is a high profile photographer who is shot five times by Alicia. After the shooting, Alicia never speaks another word. Ever. Theo Faber is a criminal psychologist who can't wait to work with Alicia. He is determined to get her to talk. This book is the definition of a page-turner.
If you have kiddos in your life that are moving out of beginning chapter books, they might enjoy transitional chapter book titles (more words, but still pictures on every page). One of our most popular with the girls is the Heidi Heckelbeck series by Wanda Coven. Heidi may seem like all of the other girls, but she is actually a witch in disguise. Heidi is careful to keep her powers hidden, but at the same time she is excited to use them.
And we can't keep the Press Start series by Thomas Flintham on the shelf! The boys tend to call it Super Rabbit Boy as that is the main character. Super Rabbit Boy is super fast and super brave, but he is also a video game character living in a video game world. The illustrations and text read like a video game. It is very appealing to readers moving into chapter books.
Marci Tate of Fayetteville is the mom of two teenage boys, an avid reader (when time allows), and Library Media Specialist at Vandergriff Elementary School.