We did a little shopping recently at The Max Reshop Boutique in Village on the Creeks in Rogers and took a quick video with the iPhone so you can see what types of things you can find there for really low prices. As you may know, The Max Reshop Boutique is an "upscale resale" store that combines a boutique-style shopping environment with the thrill of bargain hunting. Genius idea!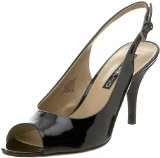 We found several really cute things that we love — Bandolino slingback shoes for $12, a silver clutch, a little black dress, oversized throw pillows —  and we were amazed at how inexpensive they were, on top of the fact that there's NO SALES TAX because this store is a non-profit joint venture of the Mercy Medical Center Auxiliary and Mercy Health Foundation of Northwest Arkansas.  The proceeds from the shop directly benefit our area by supporting women's and children's services provided by Mercy Health System. (We love it when shopping and helping the community go hand-in-hand.

)
The Max has gently used clothing for women, men and kids, as well as shoes, jewelry, accessories, home decor, linens and books. Store hours are Monday through Saturday from 10 a.m. to 6 p.m, and it's located at 5212 Village Parkway, Suites 4 and 5, in Rogers.
If you're looking for a place to donate some of your gently used items, you should know that you'll get a receipt and the donation is tax deductible. Plus, it's a great way to clear out your closets (in a way that recycles items instead of sending them to landfills), and you'll help a really good cause while you're at it.
We especially like how the staff here makes it so easy to donate. Not only do they offer pick-up service from your home or office, they'll even come to your neighborhood garage sale and pick up the remaining items that you know you don't want to haul back inside. (Just schedule this service with the manager.)
If your office, church group, PTA, etc. is looking for a group project, The Max will also help you organize a donation drive so your group members can bring items in, and The Max will pick them up and do all the rest.
The Max is currently looking for volunteers to process some of the donations, help arrange displays of sale items and help shoppers on the sales floor. If you're looking for a way to serve others that will also indulge your "retail therapy" needs, this might be the perfect place for you. Call 479-268-4235 for more info. Or click HERE to visit them on Facebook.