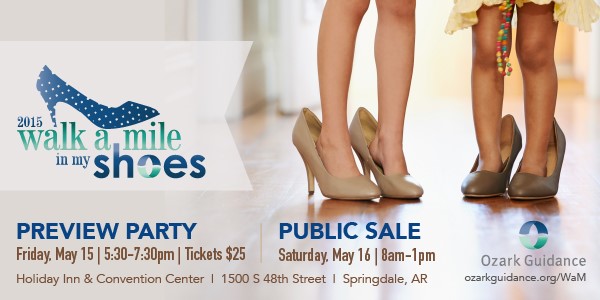 If you haven't already grabbed a ticket to attend THE best shoe shopping event of the year, now is the time because the Walk a Mile in My Shoes "preview party" is coming up on May 15th at the Northwest Arkansas Convention Center in Springdale. (The public sale is that next day on Saturday, May 16th.)
But if you're interested in the best selection, you'll definitely want to get a ticket to the preview party (and don't wait too long because there are only a limited number of tickets that will be sold.) The event starts on Friday, May 15, 2015 at 5:30 p.m. and goes until 7:30 p.m.. There will be fine chocolates, wine and cheese for all the hungry shoe shoppers. And did we mention that shoes and handbags at this event start at $10 and go up to only $20? If you're a fan of getting an amazing deal, this sale will make you happy.
Keep in mind, too, that ticket sales for the preview party as well as sale proceeds help support Ozark Guidance Center, a local non-profit organization with offices throughout Northwest Arkansas. We love it when shopping and supporting a great cause go hand-in-hand. Click HERE for info on how to get a ticket to the preview party.
If you can't make it to the preview party, the public sale event starts at 8 a.m. on Saturday, May 16, 2015 at the same location and ends at 1 p.m.
HOW TO DONATE SHOES AND BAGS: Let's admit it. We all have at least one pair of shoes in our closet that we fell in love with at the store and then wore them one time and realized that they don't really fit comfortably (even though they're still super cute.) Those shoes might fit someone else's foot perfectly so donate them to this sale! Ask your friends, neighbors, co-workers or relatives to round up a few of their gently used shoes and/or handbags, too, and then drop them off at one of these donation sites:
Local radio stations Magic 107.9, Kix 104, 933 The Eagle, HotMix 101.9): 2049 E. Joyce Blvd., Suite 101, in Fayetteville
Everett Chevrolet: 1159 N. 45th St. in Springdale
Everett Dodge: 3709 S. Thompson in Springdale
Dress for Success: Frisco Station Mall, 100 N. Dixieland (Suite B8) in Rogers
Note: All donations are tax-deductible.
ANOTHER WAY TO HELP: Please help spread the word about this fun event to your fellow shoe and handbag-lovers. Post it on Facebook, Instagram or Tweet about it today. See you at the big sale! (We'll be the ones stocking up on strappy sandals for summer!)