As moms, we understand that part of our role is to be the "glue" that holds the family together and keeps things running smoothly. We mothers are planners by nature, and we like to map out just how things are going to go. So what happens when those plans get interrupted? What happens if we get blindsided by something we never imagined would happen to us? What then?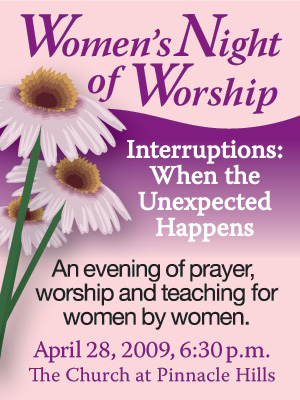 How to deal with "interruptions" is the central question that will be addressed in a special event coming up on Tuesday,  April 28th at 6:30 p.m. It's called "Women's Night of Worship", and it will be held at The Church at Pinnacle Hills in Rogers. It's open to all women in Northwest Arkansas, and there is no charge for admission.
Kathy Ferguson, head of women's ministries at The Church at Pinnacle Hills, will lead this event and will speak about a broad range of interruptions, including financial crisis, marital problems, unwanted singleness, infertility, job loss, drug use, cancer, and even the loss of a loved one. Kathy said this night will be not only about how to cope when something unexpected happens in your life but also how to grow from it.
"God doesn't always work in our lives the way we want him to or expect him to," Ferguson said. "In the Christian community, it's often easy to find God in the victories and a little harder to find him in the disappointments. This evening of worship is about finding God in the midst of those interruptions, those unanticipated things that happen to all of us at one time or another."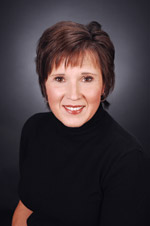 For Kathy, this is not just a message, it's part of her life story. Married for 26 years to a prominent Southern Baptist minister, Kathy's own life was tragically interrupted seven years ago when her she and her husband and three children were in a car accident. Though she and the kids were only bruised in the accident, her husband Rick was killed and Kathy lost the love of her life. You can hear more about her personal story in this touching YouTube video by clicking HERE or by clicking Kathy's photo on the right.
PLEASE NOTE: If The Church at Pinnacle Hills doesn't happen to be your home church, please know that you're still invited and encouraged to attend! Though it's not my church home, I've attended several different women's Bible studies and other events at this church and have always felt warmly welcomed by everyone there. I've already got this event marked on my calendar and am looking forward to being there with friends on the 28th. I've met the speaker and also talked with her by phone, and she is warm, gracious and very "real."
In the rush of our everyday lives, it's easy to let your spiritual life suffer. Here's an uplifting event designed just for women that is also being led by women, so don't miss out on this. For more information on the event, click HERE or on the purple graphic above to read more about it on the church website. Or call 479-271-7799 for more information. See you there!