Mercy Health System of NWA has been our main sponsor since Motherlode launched in May 2008 and we love sharing their good news.
We thought it was awesome that the March of Dimes and the Arkansas Hospital Association recently recognized Mercy for its efforts in reducing the number of elective inductions and cesarean deliveries performed before 39 completed weeks of pregnancy except when medically necessary. Studies show that babies born just a few weeks early have higher rates of hospitalization and illness.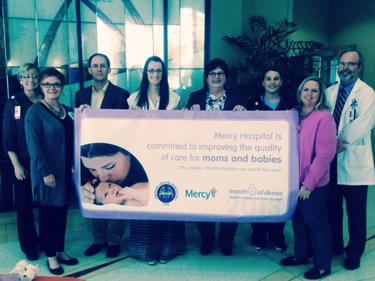 "One of the happiest places in our hospital is the fifth floor, where we have the privilege of delivering new babies every day," said Eric Pianalto, Mercy Hospital president. "We want to take every step possible to give moms and dad a healthy start with their newborn, which is why this is an important honor.It speaks directly to our commitment to parents that we are always focused on bringing the best medical advice and care for their little one.A big congratulation goes to our women and children's team, our quality control department and our doctors for this achievement". 
For the past two years, The Arkansas Hospital Association and the March of Dimes have partnered in their campaign urging women to wait for labor to begin on its own if their pregnancy is healthy. The two organizations presented Mercy with a banner signifying its dedication to reducing early elective deliveries.  
 "The last weeks of pregnancy are important.Babies aren't just putting on weight.They are undergoing important development of the brain, lungs and other vital organs," says Scott Berns, MD, MPH, senior vice president and deputy medical director for the March of Dimes. "I commend Mercy for being a champion for babies with their quality improvement effort."
 Through Strong Start, a partnership with the U.S. Department of Health and Human Services and the American College of Obstetricians and Gynecologists, the March of Dimes has been getting out the word that "Healthy Babies Are Worth the Wait." The campaign urges women to wait for labor to begin on its own if their pregnancy is healthy, rather than scheduling delivery before 39 completed weeks of pregnancy.
Some other cool news: In the past 9 months, Mercy of NWA has broken ground or officially opened four new clinics.

Mercy opened two clinics — one in Bentonville off of Rainbow Curve and the second in Bella Vista. They broke ground for a clinic in Centerton, and last month they broke ground for one in downtown Rogers.
Not only is Mercy branching out within the community, they are also continuing the reach of programs and specialties. Mercy opened a Senior Behavioral Program, opened the Ronald McDonald Family Room, increased the space capacity of its Emergency Department, and is in the process of starting the expansion of its hospital services on the 3rd floor, and integrating with Ozark Orthopedics.
And we love this, too: Since the community has the expectation that specialties be offered right here at home, Mercy has added specialists, including a child psychiatrist, neonatologist specializing solely on headaches, and there are two neonatologists coming on board this summer.
Meryc is also about to roll out its new mobile medical unit, which will travel across NWA serving patients right where they are. And one more thing: Mercy has expanded its air medical services using Mercy's own signature air medical service, Mercy Life Line.
Way to go, Mercy Health of NWA! We're proud to share this info with local moms!