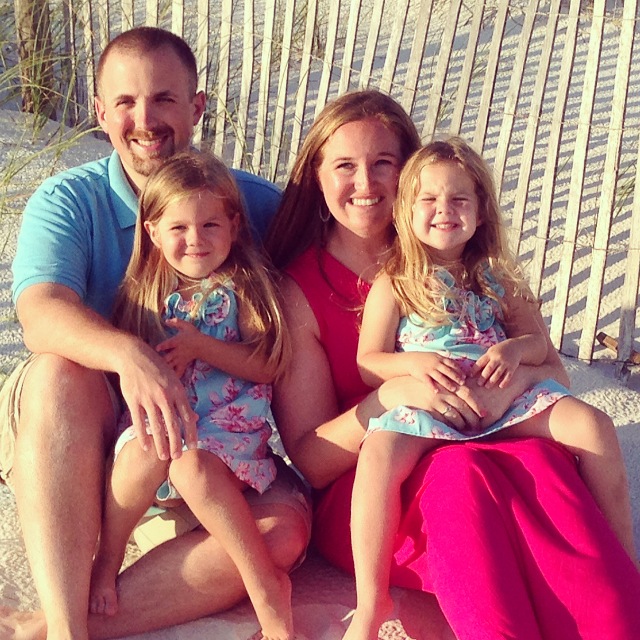 Congratulations, Cori Fryar!
Cori, mom of two, won the shopping spree to the NWA Mall after being chosen at random among all the folks who voted in our annual Mom-Approved Awards. We'll announce the businesses who won soon. Be looking for that post!
In the meantime, we asked Cori a few questions so we could all get to know her a little better:
Tell us a little about your family:
I am a 5th grade teacher at Lee Elementary in Springdale. My wonderful husband, Matt, is a lawyer at Cypert, Crouch, Clark, and Harwell, PLLC, in downtown Springdale. We have two beautiful daughters – Katie (4) and Anna (3).
Tell us about a typical day in your life:
Well, it depends on what time of the year it is! During the school year, I wake up around 5:30 to get ready for school, get my girls up around 6:45 to get them ready for school, and I leave the house at 7:15! My husband takes the kids to school at 7:45 and then goes to work. I spend most of my day with my wonderful 5th graders and come home and spend my evenings playing baby dolls and watching Doc Mcstuffins, Sofia the First, and Dora with my two daughters and husband!
During the summer, we wake up whenever, lounge around in the morning, play outside, go swimming at the Elks Lodge, get sno cones, and usually play outside in the evening! Totally different than during the school year, but I love both times!!
What do you think you'll buy with your gift certificates?
Definitely back-to-school clothes!
Which businesses are you really rooting for to win Mom-Approved Awards? My girls go to Oak Grove Montessori School in Springdale, so I'd love to see them win!
How long have you lived in NWA? I have lived in NWA my entire life and even managed to stay here after marrying a boy from Hot Springs!! I love NWA and am so glad that I get to raise my girls here.
We'd like to say thank you to everyone who voted in the Mom-Approved awards. This list will come in handy for moms who are looking for the best of the best NWA mom-friendly businesses.