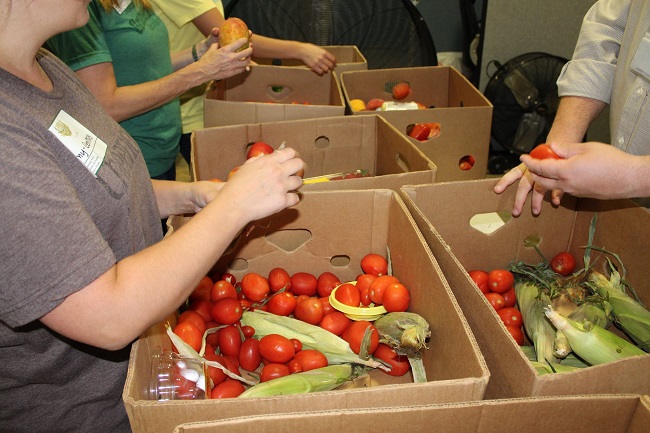 By Jennifer McCool, serial volunteer and owner at Organize This Arkansas
Kids understand being hungry and have possibly even noticed a friend at school being hungry and not having anything to eat. You can show your children how to combat hunger and how to help solve this problem by volunteering at the NWA Food Bank.
The NWA Food Bank collects food and monetary donations and then relays those donations into food programs in Northwest Arkansas. Programs they operate include a mobile senior pantry and SNAP (Supplemental Nutrition Assistance Program) Outreach, along with supporting local soup kitchens, food pantries, and shelters in Northwest Arkansas.
You and your children can help with those programs!
Volunteer at the food bank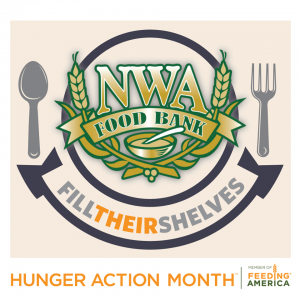 Time commitment: one time, short term, or long term
The NWA Food Bank application form has specifics about children (ages 8 and older) volunteering, in groups with a chaperone or with their parents. Along with their programs, the food bank needs assistance with maintaining the warehouse that houses the food they have collected. If you want to get information before submitting your application, you can email the volunteer coordinator at info@nwafoodbank.org .
Host a food drive
Time commitment: one time
You can partner with the food bank to have a food drive with a group or an organization. Get your family and friends together, or have a neighborhood food drive! Email info@nwafoodbank.org to get more information or to sign up and show your kids how important food is in supporting your community.
Go out to dinner
Time commitment: one time or multiple dinners – whatever you want!
Follow the NWA Food Bank on Facebook where they announce events and other fun ways to help them out. For instance, September is Hunger Action Month, and multiple restaurants in Northwest Arkansas are participating in the Take a Bite Out of Hunger event. 
Hosting restaurants, which include Café Rue Orleans, Tacos 4 Life Grill, Raising Cane's Chicken Fingers, and Newk's Eatery, will donate a percentage of their proceeds on a certain day to the food bank. Take your family out to dinner and talk about how important food is and how to handle a situation if they see someone struggling with hunger or lack of food.
Check out the NWA Food Bank website or Facebook page for all of their volunteer opportunities and to download a volunteer application. Children under 18 years old can't volunteer without a parent or guardian present, so keep that in mind when signing up to help.
Volunteer at the NWA Food Bank to help your child understand more about food insecurity and how everyone can help, no matter how young.
Want to see more "Volunteering With Kids" posts by Jennifer? Click here to read about 4 great ways to help at the Fayetteville Animal Shelter and click here for ways to help at Big Brothers Big Sisters as a family.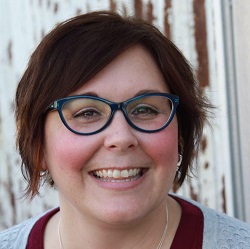 Jennifer's interest in helping non-profits comes from her extensive background in volunteering. She served as Assistant Treasurer, Treasurer, and Board Member during her membership in Fayetteville Metro Kiwanis from 2008 to 2011. With her husband, Jennifer participated as a Big Couple with Big Brothers Big Sisters for one year. The most important part of her volunteer efforts has been with Komen Ozark and Race for the Cure. For the past five years Jennifer has served as the Chairman of the Survivor Committee.
In addition, Jennifer has volunteered consistently for the Children's Safety Center, Open Avenues, Community Development Block Grant Program, and Single Parent Scholarship. Also a member of Womenade NWA and the Vice-President of the Board for Purr Catfe, Jennifer believes deeply in giving back to her community.