Every week, Samaritan Community Center sends over 7,500 Snackpacks to preschools and elementary, middle and high schools throughout NWA to be distributed to children who are at-risk for hunger over the weekends and school breaks.
While school attendance provides them the security of meals through the Federal school nutrition program, weekends and breaks bring anxiety to these children as to when food may or may not be available.
The Snackpacks for Kids program stands in the gap for families living in poverty by eliminating the need to trade one necessity for another: nutritious food for rent, utilities, transportation and healthcare. The children are able to face Fridays free of hunger anxiety, no longer worried if there is enough food at home to stretch until their next healthy meal at school.
While the Snackpacks for Kids program allows children to arrive at school on Monday morning healthy, attentive and eager to learn, Samaritan Community Center knows some of their greatest allies are their friends and school community.
How do they equip kids to encourage their friends to hope and dream beyond their circumstances? It starts with awareness.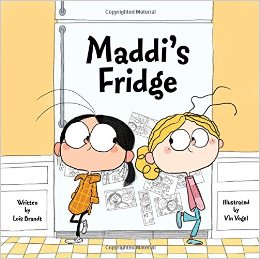 When a Samaritan staff member discovered Maddi's Fridge, she knew it was the perfect resource to bring awareness in a way that children are able to relate and respond.
Maddi's Fridge weaves the reality of childhood hunger into a story of friendship and community, encouraging young readers to "help friends who have empty refrigerators."
Now Samaritan wants to share this book with children across NWA. Their goal is to have two copies of Maddi's Fridge in every elementary school library in Benton, Washington, Carroll and Madison Counties (164 books total).
Samaritan is asking that WE join them in empowering a generation to aid in the fight against childhood hunger.
You can donate online through May 10 at www.purecharity.com/scc-books. A $10 donation will purchase one book while $20 will supply one school library and $250 will empower an entire school district! You can even select your gift to go towards a specific school. Who's in, Motherlode mamas?! Click here to donate 🙂 

MORE ABOUT SAMARITAN COMMUNITY CENTER: Samaritan Community Center has served Northwest Arkansas since 1989, originally as a local church outreach and since 2002, as an independent, non-profit organization. Their mission as a grace-driven organization is to serve the hurting and hungry through a compassionate community of staff and volunteers. Using a relational approach to operations, they encourage client families to access multiple services to meet immediate physical needs (food, clothing, health care) and to work with licensed social workers and counselors to make positive change towards financial independence and healthier lives.
One out of four Northwest Arkansas children face the physical, emotional and behavioral challenges related to hunger and food insecurity. SCC serves these at-risk children through the Snackpacks for Kids program. Each week 8-10 healthy snacks packed into grocery bags are discreetly placed in participating children's backpacks for them to take home and consume over the weekends. This program promotes improved nutrition, increased self-esteem and a positive education experience.
For more information, visit www.samcc.org, on Facebook www.facebook.com/samaritancommunitycenter or call Samaritan Community Center at 479.636.4198.