By Jennifer McCool, serial volunteer and owner at Organize This Arkansas
I love writing this blog. I love helping people see all the ways that they can help in their community and the fact that some parents want to show their children the benefits and experience of volunteering. It's just wonderful.
One of the greatest things about volunteering is that there are so many different ways to help an organization – you are really only limited by your imagination.  If you know of an organization that you would love to help, contact them and discuss opportunities or ideas that you have that might not be "traditional".
In that vein, I wanted to share this article, "#FridayReads – Kids Helping Kids" about my friends at the Children's Safety Center and how one teacher created an amazing and inspiring way for her and her students to help the organization. This article is the perfect example that there are so many ways children can help organizations in their community and shows the positive effect that these experiences have on children.
The Children's Safety Center (CSC) is a wonderful organization in Springdale that provides support services for children who have been victims of physical or sexual abuse.  Through CSC, resources from law enforcement, child protective services, prosecutors, and medical and mental health professionals come together to give these children assistance in a way that is meant to reduce the stress and fear that comes from these situations.
If you have never done so, take a tour of the facility. You will be changed forever.
Want to see more "Volunteering With Kids" posts by Jennifer? Click here to read about 4 great ways to help at the Fayetteville Animal Shelter, click here for ways to help at Big Brothers Big Sisters as a family and click here if you'd like to see volunteer opportunities at the Northwest Arkansas Food Bank.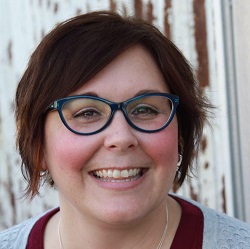 Jennifer's interest in helping non-profits comes from her extensive background in volunteering. She served as Assistant Treasurer, Treasurer, and Board Member during her membership in Fayetteville Metro Kiwanis from 2008 to 2011. With her husband, Jennifer participated as a Big Couple with Big Brothers Big Sisters for one year. The most important part of her volunteer efforts has been with Komen Ozark and Race for the Cure. For the past five years Jennifer has served as the Chairman of the Survivor Committee.
In addition, Jennifer has volunteered consistently for the Children's Safety Center, Open Avenues, Community Development Block Grant Program, and Single Parent Scholarship. Also a member of Womenade NWA and the Vice-President of the Board for Purr Catfe, Jennifer believes deeply in giving back to her community.