By Jennifer McCool, serial volunteer and owner at Organize This Arkansas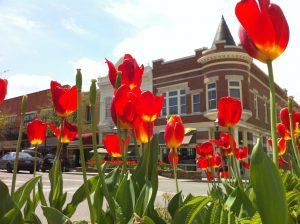 If one of your goals is to volunteer with your family doing something you'll all enjoy, one of the best ways to back to the community is by making it more beautiful.
Fayetteville Parks & Recreation takes great pride in their beautiful town but with almost 4,300 acres of park land and 42 miles of paved trails, volunteers are a necessity to keep the area scenic for all to enjoy.
Fayetteville Parks and Recreation works in partnership with the Illinois River Watershed and the Beaver Watershed Alliance. Since this is directly where our water comes from, it provides a great teaching moment for kids to understand that we have to take care of the environment.
Heads up: Beaver Watershed Alliance is having a special event on March 10: Volunteer Riparian Tree Planting. Check out the embedded links for more information.
Your family can help by:
Adopt a Park/Adopt a Trail
Time commitment: three times per year
Your family and friends or your church or some other organization of which you are a member could adopt a section of the Fayetteville Trail System or other acreage. Fayetteville Parks & Rec will provide bags and gloves and pick up the trash collected. Spend an afternoon or morning cleaning up your area and feel good that others will enjoy the space without the eyesore of trash.
Litter Clean-up, Habitat Restoration and Invasive Plant Removal
Time commitment: once or as much as your schedule allows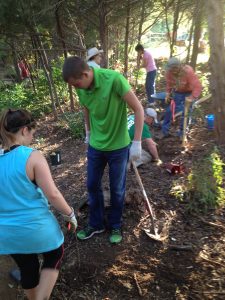 Periodically, the city will announce a work day for targeted areas. Sometimes the work is trash pick-up, but sometimes it can be helping to remove invasive plants that have taken over an area and are threatening what has already been planted. Check out their events calendar to see any work days that have been scheduled so far or follow them on Facebook to keep up with their events.
Special Event
Time commitment: Once a year
Fayetteville celebrates Earth Day in April with a special clean-up event.  They also have annual Lake Fayetteville and Lake Sequoyah clean-up events. Supplies and instruction are provided, and the city picks up the debris collected.
Do you want more information, have questions, or want to adopt a piece of nature? Contact Kristina Jones, Volunteer and Community Programs Coordinator for Fayetteville Parks & Recreation. Email her at parksvolunteer@fayetteville-ar.gov or call (479) 444-3467.  Also, check out their twitter page or Instagram feed.
Want to see more "Volunteering With Kids" posts by Jennifer? Click here to read about 4 great ways to help at the Fayetteville Animal Shelter, click here for ways to help at Big Brothers Big Sisters as a family and click here if you'd like to see volunteer opportunities at the Northwest Arkansas Food Bank.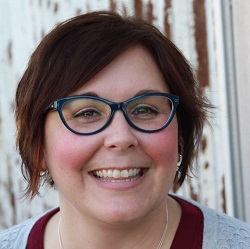 Jennifer's interest in helping non-profits comes from her extensive background in volunteering. She served as Assistant Treasurer, Treasurer, and Board Member during her membership in Fayetteville Metro Kiwanis from 2008 to 2011. With her husband, Jennifer participated as a Big Couple with Big Brothers Big Sisters for one year. The most important part of her volunteer efforts has been with Komen Ozark and Race for the Cure. For the past five years Jennifer has served as the Chairman of the Survivor Committee.
In addition, Jennifer has volunteered consistently for the Children's Safety Center, Open Avenues, Community Development Block Grant Program, and Single Parent Scholarship. Also a member of Womenade NWA and the Vice-President of the Board for Purr Catfe, Jennifer believes deeply in giving back to her community.