Moving to Northwest Arkansas: Welcome! Here's your guide to getting to know the area.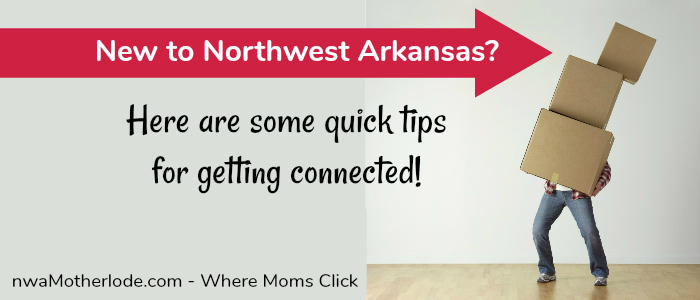 Are you moving to Northwest Arkansas? Great! You picked an amazing place to create a new home. Whether you live in Fayetteville, Springdale, Rogers, Bentonville (or any of the lovely little cities in between), Northwest Arkansas is a great place to live and raise a family.
We'd like to welcome you to this corner of the state and help you get started. We know that relocating is hard work, so we've pulled together some resources and links to help you feel connected in Northwest Arkansas a little faster.
1. There's always something fun to do in Northwest Arkansas.
NWA is brimming with festivals, fairs, charity events, outdoor activities, and unique events every year. It's impossible to take advantage of all the good stuff the area has to offer. So at the beginning of each month, we curate a calendar of events that includes the best family-friendly things to do.
We also create fun seasonal guides for your family throughout the year so you'll have all the holiday events in one handy place.
2. Meet other Northwest Arkansas moms.
We interview local mothers for a feature called 5 Minutes with a Mom and they always share some fun stuff about their favorite places to play in NWA or even the best motherhood advice they've ever received. You might just see some of these mamas around town.
If you'd like to connect with local moms in person, we've got some fun mom groups in NWA (click on the name of the organization to visit their website):
♦ Central Rogers Mothers of Preschoolers (MOPS), Central United Methodist Church
♦ MOMS Club of Bella Vista/Bentonville
♦ Mom Meetup of Northwest Arkansas
♦ Northwest Arkansas Mothers of Multiples Club
3. Rain or shine, there's a place to play in Northwest Arkansas.
We put together a big list of indoor spots where the kids can play on days when it's too rainy, cold or hot to enjoy being outside. If you want to get them outside, we have lots of great parks to try. See our big list of park reviews to make the best choice for your family's needs (or to set up a multi-city park crawl!).
4. Find out where kids eat free (or great mom-tested recipes if you're eating at home!)
If you want to find some local places to eat that are easy on the wallet, we have a list here: where Kids Eat Free. If you're eating in, but need a new recipe, we have some great ideas from local mamas in our Mealtime Mama category. Click here to see some great recipes.
5. Having a baby?
Congratulations! 🙂 Our early childhood editor, a local mama whose been busy having babies these past few years, shared many great insights, tips and ideas along the way. Here's a collection of links to some of her most popular pregnancy/baby posts on nwaMotherlode.com.
And for after the baby's born: Check out this handy guide of activities to do with your baby (or toddler) around town.
6. Summer camps galore!
If you're wondering what kinds of campus are offered in the summer, we've got a good list for you here. There are so many great camp options, whether you need full-day or just a few hours a week. We update this guide every year!
7. Stay in the loop about mom news.
We send out a newsletter about once a week, but only when there's something in it for you. We usually let moms know about new giveaways, which are always things or experiences we'd like to win ourselves (that's our test for whether to give it away on nwaMotherlode or not!).Click here to sign up for the newsletter and we'll send all the mom news straight to your inbox.
If you have a question about any of the info in our Welcome Wagon 2.0 — or if there's something else you'd like to ask — we're here for you! Just give Shannon and Gwen (the mamas who run nwaMotherlode) a shout and we'll be happy to write you back. You can email us at: mamas{at}nwamotherlode{dot}com