Moving to Northwest Arkansas: Welcome! Here's your guide to getting to know the area.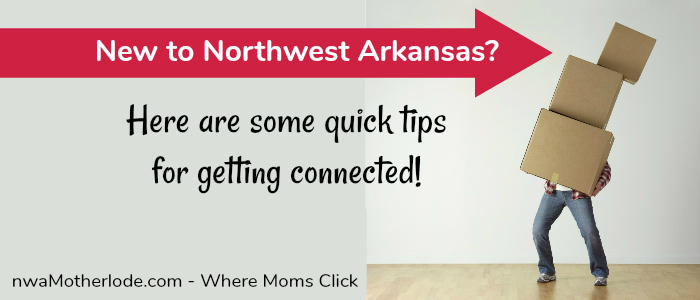 Are you moving to Northwest Arkansas? Great! You picked an amazing place to create a new home. Whether you live in Fayetteville, Springdale, Rogers, Bentonville (or any of the lovely little cities in between), Northwest Arkansas is a great place to live and raise a family.
We'd like to welcome you to this corner of the state and help you get started. We know that relocating is hard work, so we've pulled together some resources and links to help make moving to Northwest Arkansas a lot easier.
1. There's always something fun to do in Northwest Arkansas.
NWA is brimming with festivals, fairs, charity events, outdoor activities, and unique events every year. You won't be bored if you take advantage of all the good stuff the area has to offer. Take a look at our calendar of events, which is published at the beginning of each month, by clicking here. We're guessing you'll be able to find something your family would love to do.
2. Meet other Northwest Arkansas moms.
We interview local mothers in a feature called 5 Minutes with a Mom and they always share some fun stuff about their favorite places to play in NWA or even the best motherhood advice they've ever received. You might just see some of these mamas around town. Click here to "meet" NWA mamas now.
If you'd like to connect with local moms in person, we've got some fun mom groups in NWA (click on the name of the organization to visit their website):
♦ Central Rogers Mothers of Preschoolers (MOPS), Central United Methodist Church
♦ MOMS Club of Bella Vista/Bentonville
♦ NWA Hip Mamas, Bentonville
♦ Fayetteville Momtourage (formerly Fayetteville MOPS/Fayetteville MOPS @ The Grove Church)
♦ Northwest Arkansas Mothers of Multiples Club
♦ Bentonville Mom's Night Out – BMITK Chapter
3. Rain or shine, there's a place to play in Northwest Arkansas.
We pulled together a great list of indoor and outdoor activities for you here, everything from a trip to the amazing Crystal Bridges Museum of American Art (FREE, by the way) to local trampoline parks. Click here for fun family outings. We also create fun seasonal guides for your family throughout the year.
4. You'll never go hungry with this great list of Northwest Arkansas restaurants (+ a kids eat free list!)
There are so many great food options here in Northwest Arkansas. We asked local food lovers to tell us their faves and we put together a list to help you find just what the thing in the mood for. Click here to see the big list.
If you want to find some local places to eat that are easy on the wallet, we have a list here: where Kids Eat Free. If you're eating in, but need a new recipe, we have some great ideas from local mamas in our Mealtime Mama category. Click here to see some great recipes.
5. Need a bakery or a birthday party venue? A place to get your pants hemmed or swim lessons for your kids this summer?
No problem, we've got you covered! We put together a Business Directory that's completely mom-oriented. Click here to visit the Mom-Approved Business Directory of mom-friendly local businesses.
6. Summer camps galore!
If you're new to NWA and you don't know what's available, we've got a good list for you here. There are so many great camp options, whether you need full-day or just a few hours a week.
7. If you're moving to Northwest Arkansas, stay in the loop about mom news.
We send out a newsletter about once a week, but only when there's something in it for you. We usually let moms know about new giveaways, which are always things or experiences we'd like to win ourselves (that's our test for whether to give it away on nwaMotherlode or not!).Click here to sign up for the newsletter and we'll send all the mom news straight to your inbox.
If you have a question about any of the info in our Welcome Wagon 2.0 — or if there's something else you'd like to ask — we're here for you! Just give Shannon and Gwen (the mamas who run nwaMotherlode) a shout and we'll be happy to write you back. You can email us at: mamas{at}nwamotherlode{dot}com