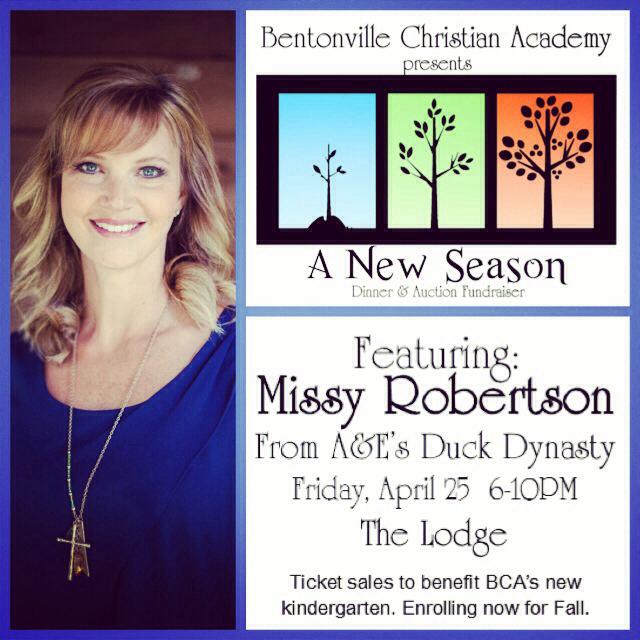 Bentonville Christian Academy is holding its very first fundraiser on April 25th and they are pulling out all the stops!
Duck Dynasty cast member Missy Robertson will speak at the event called "A New Season".
In addition to the high-profile keynote speaker, dinner will come from the kitchens of some of Northwest Arkansas' most fabulous restaurants including Tusk & Trotter, Table Mesa and Tavola Trattoria.
Sous chefs from each restaurant will compete at the event — with the winner being judged by the evening's guests. There will also be a live auction and Missy Robertson will take bids on autographed Duck Dynasty merchandise. There will also be lots of other items up for grabs in the live auction, including NASCAR pit passes, an Invisalign braces set valued at $5,000 and a hunting package. There will also be a silent auction.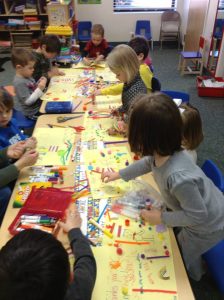 The event will celebrate Christian education in Northwest Arkansas as Bentonville Christian Academy launches a kindergarten now enrolling for Fall 2014. Currently, Bentonville Christian Academy offers preschool and pre-kindergarten programs for children ages 3-5 with plans to expand the school to other grade levels each year. (Starting with kindergarten this Fall!)
Missy Robertson is a strong proponent for faith-based initiatives and Christian education throughout the country.
A New Season will be held at The Lodge at Bentonville Church of Christ located at 904 N Walton Blvd in Bentonville. Tickets are $100 per person and may be purchased by contacting Dallas Henderson at dhenderson@bentonvillechristian.org or by calling 479.616.4880. All proceeds will go to support Bentonville Christian Academy's new kindergarten and existing pre-school.
A little more info about Missy Robertson: After marrying Jase at age 19 and now raising another generation of Robertsons, Missy learned early on that she would have to step up her game.She was not raised in a large family, but fitting into the Robertson lifestyle became an easy transition, especially with help from Miss Kay.She also learned that being a Robertson meant helping with the family business.  However, after working for Duck Commander for many years, she is now able to devote much of her time to her passion of vocal music – both singing and writing music as well as volunteering as a music teacher at her children's school.
She is also heavily involved in mission work, both domestically and internationally.She has volunteered her time as the crafts director for the last five summers at Camp Ch-Yo-Ca, a local Christian youth camp where both she and Jase spent many summers themselves as kids.  Missy's family, as well as her church, help to support an orphanage in the Dominican Republic and enjoy visiting and aiding them and their town whenever possible.When she's not filming for her family's hit show, "Duck Dynasty", she also travels to speak publicly to share her faith in Jesus Christ.
Missy has also sought the opportunity to develop a new clothing line, Missy Robertson by Southern Fashion House, that promotes modesty and class while being stylish and comfortable, all while juggling her family's many activities.  Missy and Jase have been married for 23 years and have three children: Reed, Cole and Mia.
CLICK HERE to read more about Bentonville Christian Academy's offerings, curriculum and the upcoming event!