Happy Monday, mamas! This month we're launching a new category on nwaMotherlode.com called "Top Toy Trends." With the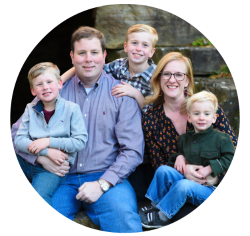 help of friend and sponsor, Lindsay Ramsey of Kindness & Joy Toys, we'll keep you up to date on what toys are hot or are about to take off in popularity with kids. (Lindsay gave us the heads-up on the fidget spinner craze a few months ago.)
As a busy mom of three and toy industry insider, Lindsay can also tell us what to look for in terms of toy quality and what age groups each toy is most suited for. Check out the video below to see Lindsay give more info on each toy featured this month.
This month we're looking at some of this summer's popular toy trends: Cactoss, Swim 2 0 Swim Goggles, Big Sandy Ice Cream Parlor, and the Geyser Football.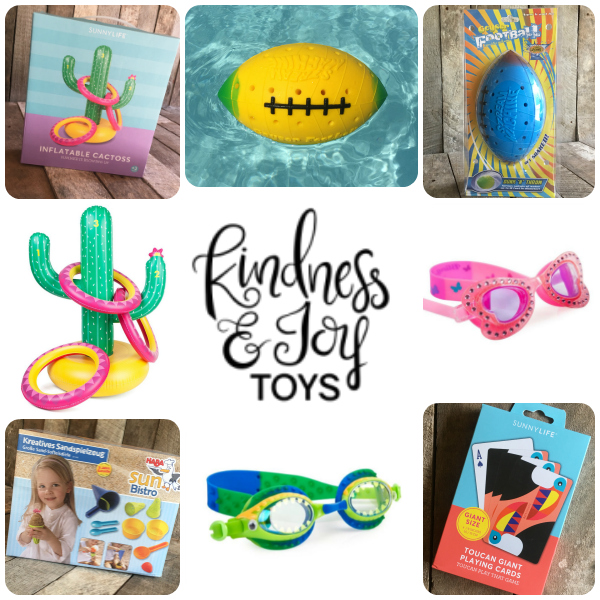 June's Top Toys
Cactoss: This cute little inflatable "cactoss" game can be played in three different ways: It floats on the water, sits in the yard, or you can even wear it on your head while someone tosses the inflatable rings on the cactus arms. It's made by a company called Sunnylilfe. Cost is $25.
Bling 2 0 Swim Goggles: These cute goggles have bling to spare and are latex-free, lead-free and have anti-fog properties. There are styles for boys and girls. Cost ranges from $20 to 24.
Big Sandy Ice Cream Parlor: This play set of sand molds is perfect for the sandbox or the beach. This set is made by a company called HABA. Cost is $18.50.
Geyser Football: Dunk this football in the pool or lake and then watch it spray when you throw it. Cost is $12.99.
Toucan Giant Playing Cards:  These giant playing cards measure 4×6 inches and are made of heavy duty PVC, which means they're tough and waterproof. This would be a great thing to pack in the pool tote bag or beach bag, for when kids need to chill under the umbrella for a bit. Cost is $20 for a full deck of cards.
Check out the video below to see Lindsay talk about each toy or swing by Kindness & Joy Toys in Fayetteville to see them in person.
The Top Toy Trends category is sponsored by Kindness & Joy Toys, a toy boutique with a variety of gifts for babies, children, tweens and all those young at heart. The shop also offers a Birthday Valet service, for parents who want a quick and easy birthday party gift pick-up service. Check out the shop online or in person at 1160 N. College in Fayetteville (located inside the Shops at Sara Kathryn's).
Save
Save
Save
Save
Save
Save
Save
Save
Save
Save
Save
Save
Save
Save
Save
Save
Save
Save
Save
Save
Save
Save
Save
Save
Save
Save
Save
Save
Save