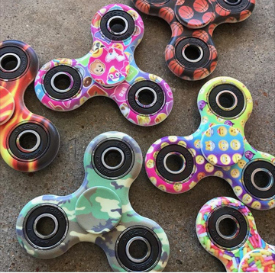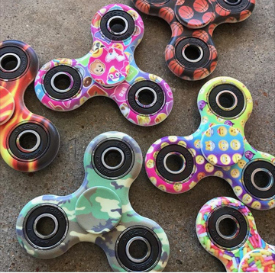 Hey, mamas! Have your kids mentioned a new toy called the fidget spinner?
It's shaping up to be one of those things that takes off in popularity, much like silly bandz, bottle-flipping and homemade slime did. These small spinning toys are small enough to fit in a kid's hand and pocket, and kids like to see whose spinner will spin the longest or who can perform the best trick with their spinner.
Lindsay Ramsey, who owns a local toy store called Kindness & Joy Toys, gave us the heads-up on this emerging trend, as well as a few tips for parents who are thinking of buying one.
1. Be sure that you're buying a high-quality spinner. These toys aren't particularly expensive (they sell for about $20), but not all spinners are created equal. Lindsay said some of the lower quality spinners have ball bearings that may drop out of the toy. After doing some research, Lindsay decided to carry a spinner manufactured by Top Trenz because it was voted as having the longest and fastest spin. (Spins are said to last as long as 3 to 4 minutes per spin.)
2. Unlike some of the fidget cubes which made clicking noises, fidget spinners are a mostly silent toy, which is great news for a busy mom who would rather not go crazy after hours of listening to an irritating sound effect. 😉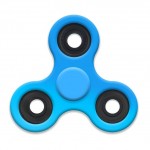 3. They come in different colors and patterns, and a new variation even lights up when your kid spins it. (Kindness & Joy Toys will have the regular fidget spinners in stock as of Thursday, April 20th — but she has a shipment of light-up spinners arriving soon. Call Lindsay at 479-422-8776 if you'd like to reserve one.)
4. Some parents feel that these kinds of "fidget toys" are useful for kids dealing with issues like ADD, ADHD, anxiety, autism and more because they help the child release some nervous energy.
5. If you want a certain color, pattern or one of the light-up spinners, you may want to consider putting in a pre-order, since this is one of those toy trends which may make inventory sell out quickly as more kids catch the craze. Click here if you'd like to send an email to Kindness & Joy Toys about ordering a specific style/color.
Fidget spinners might not look like much in the package, so it's one of those things you really need to see demonstrated in order to "get it." We found this video on YouTube of two kids reviewing the type of fidget spinner carried locally at Kindness & Joy Toys. Take a look:
Our thanks to Lindsay for the heads-up about this fun toy trend. If you'd like to see fidget spinners in person, you can take a spin over to Kindness & Joy Toys in Fayetteville, located in the Shops at Sara Kathryn's at 1160 N. College in Fayetteville. (For Benton County moms, you can order and then pick up on the second day at Shop for Mankind in Rogers.) Questions? Call the shop at 479-422-8776. Happy spinning!
Save
Save
Save
Save
Save
Save
Save
Save