Happy Friday, mamas! Can you believe how quickly these warm (sometimes sweltering hot) months are flying by?
Here are three (actually 4) things we're loving lately. Keep in mind, we're NOT being paid to mention any of them. We just like them, use them and we tend to tell our friends about the stuff we love.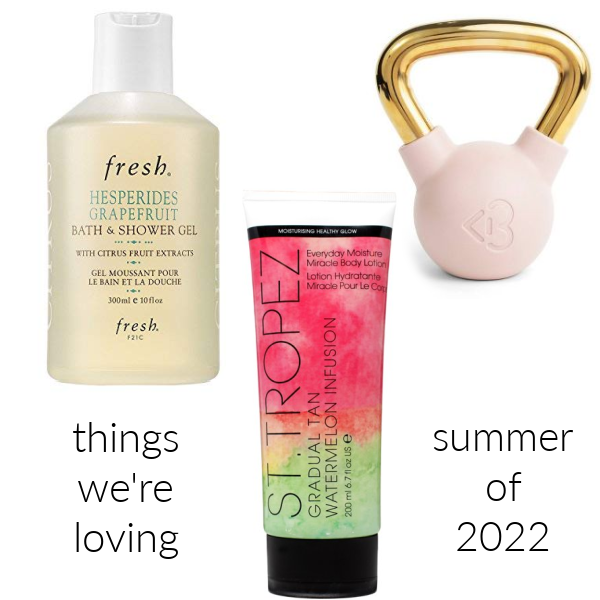 Fresh Hesperides Grapefruit Bath & Shower Gel: This is a new find for me, and I love it!! The scent is just perfect. Not too flowery. Not too strong. Just right. It's a bit of a splurge, but it only takes a small amount when I'm using it so I expect it to last quite a while. I actually look forward to using this shower gel as the last step of my shower routine — like dessert! I save the best for last. You can find it at Sephora, Ulta, and I've seen it on Amazon, too.
St. Tropez Gradual Tan Watermelon Infusion: If you're a tragically pale girl like me and avoid the sun for obvious reasons, this is the self-tanner for you. This is my second summer to use it, and I really do like how it goes on evenly, soaks in quickly and smells so good. It gives me a good amount of color (without being too obvious that it's self-tanner) and it lasts for at least a week. I re-apply after every other shower. You can get it in lotion or mousse formula. I've found it at Sephora and at Ulta. I've also seen it online only at Walmart.
Blogilates Iron Kettlebell Coral Pink 15 lbs: So, I bought this pretty pink kettlebell on a whim during a recent trip to Target. But I'm so glad I did because then I found this quick workout online that I've been doing lately that I think is really effective but doesn't take too much time. I can do it in front of the TV while I'm watching the news or a show. You don't need much room. And I leave the pink kettlebell out where I can see it as a reminder to pick it up and do a quick set of moves. Scroll down to see the workout I like.
10 Beginner Kettlebell Exercises for Full-Body Workout: I found this workout on the Self Magazine website, and it's SO helpful. What I love about it is that it not only explains each move, but it also shows short looping videos that SHOW you how to do each move. It has recommendations for which moves to group together and how many reps to do of each move. It never takes me more than 20 minutes to get it done. And I definitely feel the impact the next day. I'm using a 15-pound kettlebell (mentioned above) but a 10 or 12-pound kettlebell would work fine, too. This is a little challenging but does not feel undoable at all.
What are you loving lately, mamas! Let us know in comments or on Facebook. We love to find new products that are mama-approved.