Mamas, we realized recently that we haven't talked about our favorite things in a long while. We used to regularly share on our radio show about the products or services we were loving at the moment. We think it's time to bring that segment back.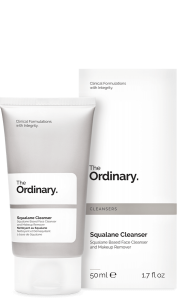 SHANNON: These days, I'm loving skincare products from The Ordinary. They are effective and inexpensive, two words I really appreciate when they're used together. I have combination skin and I'm interested, ahem, in anti-aging products.
Here's my nightly routine: First up, I use the Squalane Cleanser, which is great at dissolving makeup as part of a one-two punch. My skin feels soooo good after I use it. The moisturizer incorporates squalane and other lipophilic esters that are gentle and moisturizing.
Next, I use "buffet," a water-based serum with peptides that target firmness and anti-aging. It's called buffet because it's delivers lots of goodies for your skin in one product. Clever.
After I let the buffet sink into my skin, I apply Lactic Acid 10% + HA. Lactic acid is an alpha hydroxy acid that exfoliates the skin. Be sure to use sunscreen when you're using this product since your skin will be more sensitive. We don't want to invite wrinkles! ALSO: My experience says don't leave this on your hands or they will become even redder and more irritated than they already are (thanks to all the hand washing.) This product improved the texture of my skin almost immediately.

As the last step, I use Natural Moisturizing Factors + HA to seal the deal. This product is made up of multiple amino acids, fatty acids, triglycerides, urea, ceramides, phospholipids, glycerin, saccharides, sodium PCA, hyaluronic acid and other compounds, according to the website (which includes lots of reviews for each product). I just know that it feels great and leaves my skin feeling so soft.
Note: This review was not compensated or sponsored in any way. I just wanted to share!
GWEN: Like so many people, I'm not wearing much makeup lately. Most days I'm working from home anyway, or the short errands I'm running don't feel worthy of the time to go through the whole makeup routine. But unfortunately, I have the kind of pale complexion that is nearly translucent… like I often wonder if people can see actual blood cells running through my body.
Okay, it's probably not quite that severe, but when you're as pale as I am, sunscreen is oh-so-important for so many reasons.
I'm happy to say I've finally found my all-time favorite facial sunscreen that doesn't feel the least bit like ordinary sunscreen. It's called Anthelios Tinted Mineral Ultra- Light Fluid Broad Spectrum SPF 50. It's made by La Roche-Posay and it's oil-free.
The texture is SO thin and spreads so easily. I can wear it under actual makeup if I want to. But I really like that I can get this sunscreen in a tinted formula, for those days when I don't want to wear makeup but I want a touch of color to warm up my skin and even out any red areas.
I first read about this product in an article that mentioned that this is Kelly Ripa's favorite facial sunscreen, specifically because the color is so subtle that it doesn't seem tinted even though it is. Hope you guys love it as much as I do!
We'd love to hear about something you're loving right now. Leave a comment here or on social media. We always appreciate a great recommendation!