Mamas, the two products I'm loving this month are all about getting things clean. Since we spend so much time standing over a sink — cleaning up after little people — I'm always on the lookout for things that make time in the kitchen a little easier.
I ran across an article on my news feed that had been published on the Food Network website, but the article wasn't about food — it was about a dish soap dispenser and brush set. I liked the looks of the cute little round container the brush sits in that feeds it soap. The writer raved about it, and since I'm never quite satisfied with my former dish scrubbing brush, I decided to give it a try.
It's called the Bubble Up Dispenser and Brush Set, and I bought it on the Grove website. The brush itself it round and has a short but sturdy handle, which lets you scrub hard when you want to. But the genius part is the little container it comes with.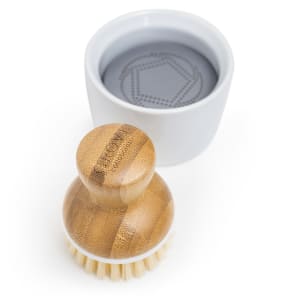 You put your regular dishwashing soap (I use Dawn) in the bottom of this round cup. It has a spring-loaded platform that sits above the soap. When you want to use the brush, you just pump up and down on the little brush handle and soap comes up through the holes of the platform and into your brush.
What I like about this is that you don't have to use your other hand to pick up the bottle of soap and squirt some onto the dishes. You just load up the brush by pushing it down on the platform, and it's ready to go.
I also think this is definitely helping me use less dishwashing soap than I normally did. And did I mention it's way cuter than the typical dish brush and holder? I like that, too. If we're doing dishes, we might as well enjoy the view.
One other thing to try…
If you're on the Grove website anyway, also check out the hand sanitizer they carry that's called Blood Orange Hydrating Hand Sanitizer Gel. Since the pandemic began a year ago, I've become a total hand sanitizer snob because we use SO MUCH of it. It has to smell decent and not be sticky or slimy.
This one is my absolute favorite. It's not sticky/slimy and the smell is AWESOME.