By April Wallace, Northwest Arkansas mama and nwaMotherlode contributor
I know many people have their Christmas trees up already, lights aglow on their decks and snowmen, reindeer and other happy decorations set out to add some cheer to this difficult year.
But over at our house, we're holding off on all that because Thanksgiving is simply my favorite.
I love that there's a holiday centered on mindfulness and gratitude for what we have, celebrated simply with a hearty meal, great company and maybe a little TV (Macy's parade, dog show, football, etc). All the pie doesn't hurt, either.
This is kind of a difficult one to explain to my toddlers, who are expecting each holiday to carry the flash and glam of Halloween just because it happened so recently. So as always, I've been reaching for some books to help explain. (Here are a few you can look for at the bookstore or order the Kindle version online and enjoy them on an iPad or tablet.)
A Charlie Brown Thanksgiving by Charles M. Schulz is something I just couldn't live without. We bought this one so Henry and Elliott could get in on the tradition. Charlie juggles Peppermint Patty's self-made invitation for their friends to have dinner at his house on Thanksgiving while his grandma is waiting for him at her house. He serves up the only things he can make: buttered toast, popcorn and jelly beans. And when Patty's not impressed, I love how Marcie points out that Thanksgiving isn't about the type of food, it's about being thankful we're together.
Pete the Cat: The First Thanksgiving by Kimberly and James Dean is a sweet way to introduce the story of the pilgrims of the Mayflower and the Native Americans who helped them. Since neither of my boys are in school this year, I appreciate the way it's told in a school play. Elliott (22 months) loves opening all the flaps, and Henry (3.5 years) enjoys the last page, where each cat at the table says what they're thankful for and then asks him to answer too.
Just a Special Thanksgiving by Mercer Mayer is full of critter's misadventures through art class projects, a school play, a small town's Thanksgiving parade, cooking at home and serving dinner at a homeless shelter. I like the continued themes of patience and acceptance of the young kids despite their innocent mishaps, not to mention introduction to the concept that everyone is expected to pitch in.
Happy Thanksgiving, Biscuit! by Alyssa Satin Capucilli follows my boys' favorite fictional dog as he helps his family get ready for Thanksgiving. He cleans up, "helps" bake, tidy, set the table and answer the door. Of course, we're all thankful for Biscuit!
The humor of Bad Kitty Does NOT Like Thanksgiving by Nick Bruel is kind of beyond my boys at these ages, but I know they'll find him hilarious in another year or two. Bad kitty destroys all the side dishes and picks up a few injuries as he tries to get his paws on the golden brown Thanksgiving turkey.
The Berenstain Bears Give Thanks by Jan and Mike Berenstain gives one sweet little outcome to the question of what would happen if our kids met their Thanksgiving dinner before it made it to their plates. Sister Bear's compassion for the turkey gives the family a new pet, changes the holiday menu and meanwhile she puts on a Mayflower play of her own, touching on the religious aspects that brought the pilgrims to the "new world."
Be Thankful, Pout Pout Fish by Deborah Diesen lends a fantastical element to the everyday ordinariness of Thanksgiving (what if it took place under the sea?) Mr. Fish's friends all bring dishes to the table, they welcome others, they share and spend time in gratitude. My boys seem taken with this one, as simple as it is. Even I can't deny that the scene on the last page is especially cute as the mollusk and hermit crab nap on the couch while the octopus and crab play board games.
In November by Cynthia Rylant is really more a book for me than for my boys, at least for now. They enjoy the book's gorgeous watercolor-like illustrations (by Jill Kastner) that show how the natural world changes around us this time of year. And it shows what we do as we spend more time inside together. "In November, people are good to each other. They carry pies to each other's homes…share a meal with one another and give thanks for the food on their tables and the babies in their arms."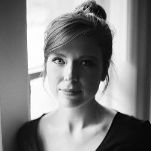 April Wallace is a stepmom to one smart, funny teenager, mama to two beautiful and curious baby boys and wife to a very kind and generous man. She spent the past decade as a news reporter, sometimes lifestyle writer, and recently left her job at the Arkansas Democrat-Gazette to be with her babies while they're still babies. When she gets a few minutes to herself, April loves to run local trails and read fiction. For more of April's posts on pregnancy, babies and toddlers, click here.