By April Wallace, Northwest Arkansas mama and nwaMotherlode contributor
It's time to pull out those Christmas books once again! There's something especially cozy about Christmas stories. This time of year, I love cuddling up with my toddlers under a blanket, coffee in hand and little hot chocolates in theirs, to read, read, read all nice and snug and warm while the weather is grey and dreary.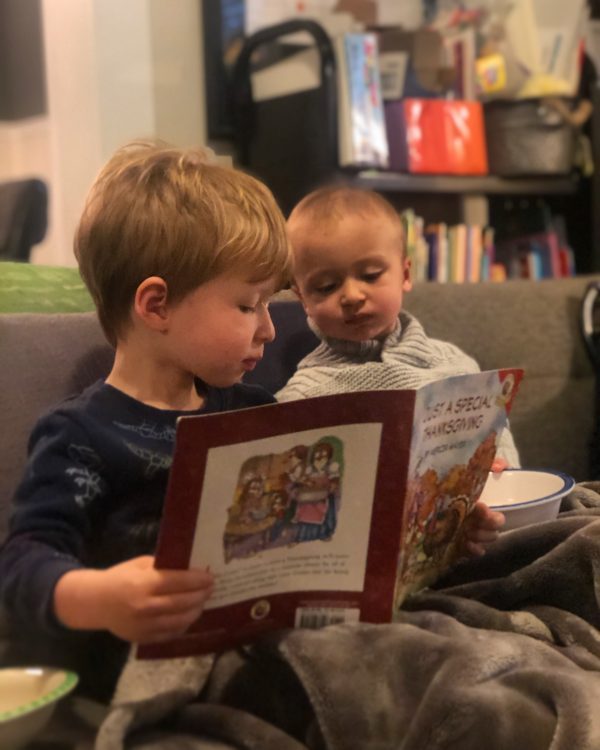 There are so many wonderful Christmas books out there, and everyone has a strong opinion about which ones are the best. There's no way I could possibly include them all, but here are some of the holiday favorites we've come across the past year or two.
The Night Before Christmas, the Classic Edition, by Clement C. Moore was a natural choice for our family. Henry, my oldest, is just getting to the age where his memory is really developing. That means that in some ways, Christmas is a bit new from his perspective. He has only vague ideas about it: Santa rewards good boys and girls, there will be presents at some point, yada yada, so this classic tale is perfect for giving him the iconic Christmas story. Strange noises on a cold winter's night reveals a gaggle of flying reindeer driven by a jolly old man there to slip down the chimney, eat some cookies and deliver a bag of presents.
Growing up, it confounded me why the story of Jesus' birth was broken up over various books in the Bible, how you had to skip around if you wanted to read it all together. In the Golden Books edition of The Christmas Story, you can read all in one the tale of the angel's message to Mary, her marriage to Joseph, their trip to Bethlehem, the wise men who visited them and the beginning of the Herod saga.
Frosty the Snowman by Jack Rollins should just be issued to every child at Christmastime, free of charge, don't you think? I love a story that hinges on the imagination and secret joy of children. And as a parent, I really like sing-songy tales for my kids. I'm looking forward to showing my boys the movie, but even more so to the day they'll sing along with me.
Little Blue Truck's Christmas by Alice Schertle may be the most popular volume of the Little Blue series. Shortly after Henry and I got the original Little Blue, we had more than one friend ask us excitedly if we had gotten the Christmas one yet, so we hurried to grab it up and were not disappointed. In it, we follow our favorite pickup truck as he delivers Christmas trees to his animal friends. As each delivery is made, we read the animal noises (which entertains my 22 month old) and count down the remaining Christmas trees (which entertains my 3.5 year old). Seeing Little Blue's Christmas tree light up at the end is enjoyable for the whole family.
How the Grinch Stole Christmas! by Dr. Seuss is another one of those classic books that every child should enjoy at some point. A grumpy, small-hearted character lives on a hill above some Christmas-crazed citizens. Tired of their excited, merry nonsense, he tries to ruin their fun by stealing all their presents the night before Christmas. To the grinch's surprise, his hijinks didn't take their joy away. The residents of the town linked hands and sang, just happy to be together. "Maybe Christmas," he thought, "doesn't come from a store. Perhaps Christmas means a little bit more!"
The used copy that I purchased for Henry & Elliott has an inscription from a grandmother who originally gifted the book in November of 1989. I love knowing that other children, who are now all grown, spent their childhoods enjoying it and now it continues to get a lot of love from my own.
Construction Site on Christmas Night by Sherri Duskey Rinker and AG Ford brings our construction vehicle friends back to the construction site to prepare for Christmas night. The overall spirit of the book is not all that different from the beloved Goodnight, Goodnight, Construction Site, but the vehicles work through the snow, and as they do, each discovers a present to open—a thank you for working hard.
The Littlest Reindeer by Brandi Dougherty features Dot, who is anxious to learn how to fly so he can accompany Santa on the big night. He turns to friends and family for help learning, but it's his friendship with little boy Oliver that is so sweet. Oliver reminds him that he's not too little to enjoy other Christmas activities, like snowman building, games of chase, card making and creating snow angels.
Santa Flap Book, an Usborne book by Sam Taplin and Rosalinde Bonnet, is a delight for my 22-month-old. We visit Santa as he takes gifts from his workshop to the skies, chimneys and houses and lift the flaps along the way to see which toys are hiding under the wrapping paper.
Olivia and the Christmas Present by Scott Sonneborn follows this pig (who apparently is a Nickelodeon star), as she tries to keep the present that she got for her brother a secret. I appreciate that at the heart of this story is a little girl who loves giving even more than receiving. And the scene where she imagines being like Ironman is so quirky and unexpected that even I find it funny.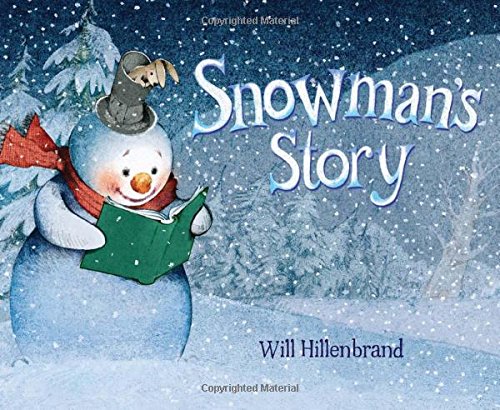 Snowman's Story by Will Hillenbrand is a gorgeous picture book. The snowman reads a story to his friends: the bear, the fox and the bird. He's interrupted when a bunny steals the book and runs off. They chase each other through the snow (stopping for a snowball fight) and wind up at her burrough, where it's clear she just wants to read the story to her babies. Relieved, they are happy to share and enjoy the book, all of them cuddled up together.
Danny Dozer's Perfect Christmas Tree, by Dena Neusner, is what little boy Christmas dreams are made of. I learned only recently that John Deere has a line of books, and it pleased Henry and Elliott to no end. In this one, Danny Dozer, Luke Loader and their friends decorate a Christmas tree together. When their work is ruined by a rainstorm, they come together to fix it just in time for Christmas. There are enough flaps on each page to keep both boys from fighting over it too much. I bring this one everywhere we go!
Of course I wouldn't want you to miss The Polar Express by Chris Van Allsburg. It has such beautiful illustrations in a story about a magical train that carries its passengers to the north pole. Once you read it, be sure to watch the 2004 movie with Tom Hanks, or if you prefer audio, try the free download of Liam Neeson reading it by clicking HERE and then use the access code RING.
Deck the Halls by Veronica Vasylenko is another of our sweet musical books. This version is by Scholastic, which always has vibrant illustrations and typically very affordable titles.
When Santa Was a Baby by Linda Bailey imagines all those early tip-offs that Santa was different and special, right from the very start. I'll bet that once my boys grow more accustomed to the pieces of Santa's character, they'll find this one funnier and funnier.
Ten on the Sled by Kim Norman is a Christmas tale of animals taking a sledding ride down the hill and it seems to be set to the tune of "Ten in the Bed." We discovered this one through our local library and were reluctant to return it.
Now it's your turn. Please leave your child's (or your) favorite Christmas book in the comments so everyone can check it out. Happy holidays!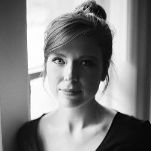 April Wallace is a stepmom to one smart, funny teenager, mama to two beautiful and curious baby boys and wife to a very kind and generous man. She spent the past decade as a news reporter, sometimes lifestyle writer, and recently left her job at the Arkansas Democrat-Gazette to be with her babies while they're still babies. When she gets a few minutes to herself, April loves to run local trails and read fiction. For more of April's posts on pregnancy, babies and toddlers, click here.