Guest post by local blogger Amy James, oureverydaydinners
We eat Thanksgiving-y foods throughout the season in our house. One day a year is just not enough for turkey, pecans, sweet potatoes, and cranberries as far as I'm concerned. Dressing, candied sweet potatoes, and green bean casserole are, however, reserved for the actual day!
Here are a couple of dishes you can cook for Thanksgiving dinner or for a family dinner any day of the year. When the finally pandemic ends, these recipes would also be great for a work potluck or for a fun dinner with friends.
Cranberry Salsa
Amy says, "This salsa is a fabulous alternative to cranberry sauce. It's so fresh tasting! You can serve it with turkey, with chips as an appetizer, over a block of cream cheese for company, or give it as a hostess gift in jar tied with a pretty ribbon during the holidays."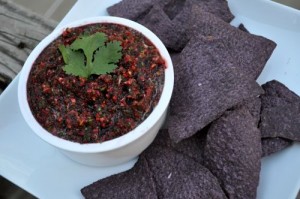 12 oz fresh cranberries
large bunch fresh cilantro
5-6 large green onions, cut into 3 inch pieces
juice of 2 fresh limes
1/2-3/4 cup sugar
Add cranberries, lime juice, cilantro, green onions, and 1/2 cup sugar to the food processor and pulse until combined.  Taste salsa, and add more sugar and salt if necessary.
Salted Caramel Pecan Tart
Amy says, "If you don't have a tart pan, you can bake the crust in a 9×13 pan and then just cut it into squares. Don't leave off the salt! It turns a delicious tart into something spectacular."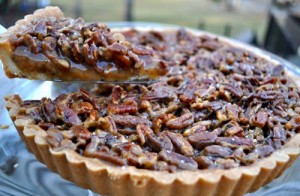 3 1/2 cups coarsely chopped pecans
2 cups all-purpose flour
2/3 cup powdered sugar
3/4 cup butter, cubed
1/2 cup firmly packed brown sugar
1/2 cup honey
2/3 cup butter
3 tablespoons whipping cream
1 teaspoon fleur de sel or coarse salt
In a food processor, pulse 3/4 cup butter, flour, and powdered sugar until it resembles coarse meal.  Pat mixture evenly into a lightly greased 11 inch tart pan with removable bottom.
Bake at 350° for 15-20 minutes or until edges are lightly browned. Cool on a wire rack 15 minutes or until completely cool.
Bring brown sugar, honey, 2/3 cup butter, and whipping cream to a boil in a saucepan over medium-high heat. Stir in pecans, and spoon hot filling into prepared crust.
Bake at 350° for 20 minutes or until golden and bubbly. Cool on a wire rack until completely cool.  Sprinkle with coarse salt.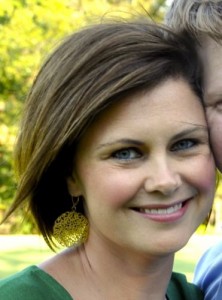 Amy James lives in Fayetteville with husband John, Alpha, Beta, and the Baby. She chronicles what she cooks for dinner at www.oureverydaydinners.com. You can follow her on twitter here.