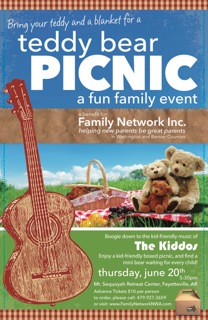 Bring your teddy and a blanket for an evening of family fun.
Family Network NWA presents A Teddy Bear Picnic on Thursday, June 20, from 5:30 to 7 p.m. at Mt. Sequoyah Retreat Center in Fayetteville. Entertainment by The Kiddos. Kid-friendly box suppers will be provided — along with a mini bear for each child.
To purchase your tickets, call Family Network at 927-3659 or CLICK HERE. Advance tickets are $10.
Family Network Inc. is a non-profit corporation with the vision of healthy children being raised in nurturing homes. Its mission is to meet the needs of families in Northwest Arkansas for personalized parenting education and family support prior to the birth of and during the first three to five years of a child's life.
The Family Network's current services include in-home parenting education with families, often single or teen mothers, expecting or parenting their first child. Home visitation allows Family Network and its parent educators to individualize our programs to better meet the needs of the parents and children they serve. It also helps nurture each family's sense of independence, pride, and confidence.
Parents learn positive ways to provide baby and toddler care and healthy nutrition, safe-proof their homes, and guide their children with nurturing discipline. The non-profit serves both English and Spanish speaking families.
For more information, please visit www.FamilyNetworkNWA.com