By Sarah Martin Hood
I heard about it for months, and I resisted. I'd heard it was all about crafts and cooking – which aren't at the top of my personal list of hobbies – so I didn't give it much thought. I didn't need another social networking outlet and I certainly didn't need another online distraction to occupy my attention while I was supposed to be productive! What redeeming value could another trendy website possibly provide??
Of course, knowing what I know now — I was clearly crazy.

Pinterest is a virtual bulletin board that allows users to organize anything and everything — wedding ideas, favorite recipes, birthday party themes, or holiday decor. Find something on the internet you want to save for later? Now you have a place to put it! Through Pinterest, you can create your own collections of images on personal "pinboards" that you can reference whenever you like. Anytime you find something you like while surfing the internet, just "pin it" to the board of your choice.
It's more than recipes, more than fashion ideas, more than holiday decor. Like to travel? Start a pinboard of fabulous places you want to visit someday. Amateur photographer? Collect images that inspire and motivate you. Maybe you're remodeling — start a pinboard! Bathroom tile from this photo, window treatments from another, and built-ins from somewhere else.
No need to print everything and keep it in a file or try to remember the website with that perfect paint color or fireplace design — Pinterest to the rescue. The sky's the limit. It is truly all about what interests YOU.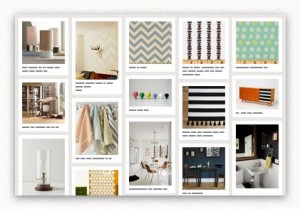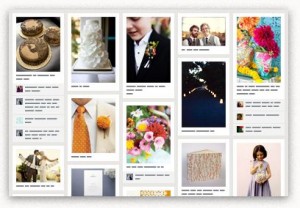 Your pinboards will maintain the original link corresponding to each image, so when you actually want to go back and order that wallpaper or those party favors, you can do it with a click.
While Pinterest isn't a social networking site in a traditional sense, there is a built-in spirit of sharing ideas and inspiring others. As a member of the site you can "follow" other users to see what they're pinning and what notes they're making. All of us have THAT friend who always brings fabulous desserts to school functions or ALWAYS wears the most funky jewelry. Follow her! Share ideas!
A few tips as you start pinning:
Be patient. Pinterest has you "request an invite" before you get to start pinning. No worries – it just SOUNDS exclusive. You'll get your "invite" by email within about 24 hours and you'll be ready to go.
Be a follower. When you sign up Pinterest will suggest pinboards and other users for you to follow. Take the suggestions! There are some real gems out there — and you can always unfollow later if you like.
Search. While you can spend as much time as you like browsing pins and boards of other users, there's always the more direct route of the "search" box. Search "Razorbacks" or "tailgate" for some fun football season ideas, or try putting in kiddo stuff like "first day of school" or "rainy day activity" for fun and clever ideas.
Explore! There are things out there you never knew you never knew! Gadgets and foods and places and ideas that will inspire you and make you smile. The site is divided into categories and, inevitably, there will be categories you are naturally drawn to. But shake it up a little — click on a category you might not usually investigate. You'll surprise yourself.
Go mobile. There's an iPhone app (of course!) so you can pin and re-pin on the go. There's even a function that allows you to snap photos of things you see while out shopping and pin them to your boards!
I've been a Pinterest user for only a few weeks and I've been hooked since day one. I've discovered everything from new Crockpot recipes to Christmas gift ideas for grandparents. I don't know where it's been all my life!
Happy pinning!
Sarah would love to hear from you with questions or feedback regarding gadgets, apps, technology, or blogging. You can also stop by Sarah's personal blog, Musings of Mother Hood to say hello or follow her on Twitter @sarahmcow. To read previous installments of Techno Mama, click here!