Congratulations to Nikole, who won FOUR tickets to see the Sweet Can Circus at the Walton Arts Center! So she and her guests don't go hungry, they'll also be treated to dinner at U.S. Pizza just minutes away from the arts center.
Nikole said in comments: "My favorite spot is the living room because that is most often where everyone is gathered."
Nikole is the mom of two boys — 5-year-old Owen and 2-year-old Ryan. She's originally from the East Coast, but moved to Arkansas after she met Shane online and they married. Her living room is even more filled with family now, though. Nikole fixed her sister up with a guy from the Natural State, so she moved here as well. And since their mom has three grandsons here, she's moved to NWA!
About the Circus: The Sweet Can Circus is a show that integrates circus, live music, dance and theater. Audiences get a chance to see circus arts performed up close in the small, black box Starr Theater which seats nearly 200 people.
You'll see trapeze stunts, aerial silks, slack rope, juggling and acrobatics. Performers walk on their hands, and mailboxes will levitate!
This show is best for kids ages 7 and up. Show times are Thursday, July 30th at 7 p.m.; Friday, July 31st at 8 p.m.; and Saturday, August 1st at 2 p.m. and again at 8 p.m.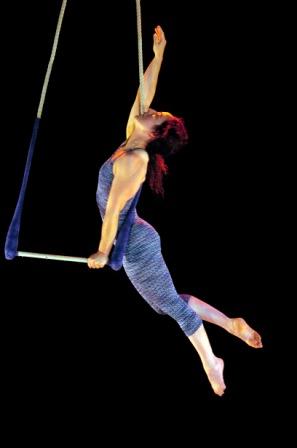 Sweet Can Circus is also offering an "Open Circus Studio" where kids 16 and under can attend an aerial rehearsal, ask questions and test their skills with circus apparatus including aerial silk, trapeze, rolla bollas and juggling equipment. (Again, this event is best for kids ages 7 and up, and an adult needs to attend with them. You can come for the whole 90 minutes or just drop in. Cost is $5 per kid and parents are free.)
For more info on the Sweet Can Circus, click here or on the photos to go to the Walton Arts Center website, or call the box office at 479-443-5600.